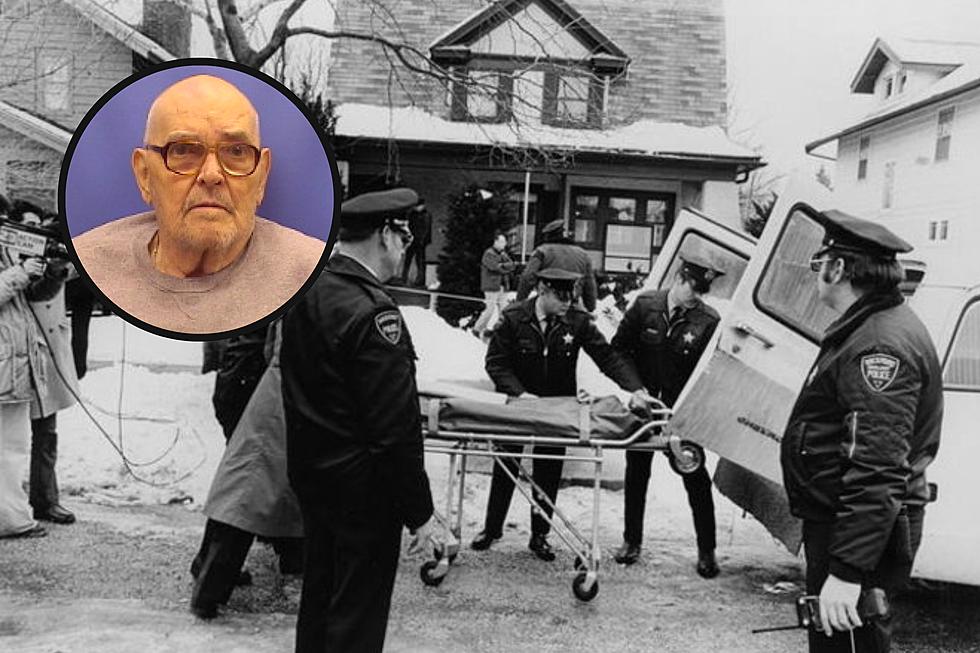 True Crime: The Illinois Man Who Murdered His 6 Kids & Family Pet
Illinois Department Of Corrections, Rockford Register Star via Twitter
Have you heard of Simon Peter Nelson, an Illinois man responsible for the brutal murder of his children and their pet dog? It happened nearly four decades ago and was one of the most heinous murders in Rockford, Illinois history.
On January 7m 1978, the nightmare began when police received a distress call from a woman who expressed concerns about her children's welfare, suspecting her husband might have harmed them.
With limited information, officers conducted a welfare check at the family's home in the historic Churchill Grove neighborhood at 1425 Camp Avenue.
The "smell of death."
What awaited the officers inside was a scene of unparalleled brutality, etching its way into the annals of Rockford's darkest history. Even before stumbling upon the gruesome discovery, one of the responding officers, Steve Pirages, recounted to the Rockford Register Star a peculiar smell in his nostrils, an eerie premonition of the unspeakable horror lurking within.
Officer Pirages' ominous hunch became a reality—the unmistakable "smell of death" permeated the air.
READ MORE: Illinois Is One Of The Worst States For Unsolved Murders In America
While investigating room-to-room, police uncovered the lifeless bodies of the six children, ranging from a 12-year-old girl to a 3-year-old boy. Simon Peter Nelson, their father, had ruthlessly beaten them with a rubber mallet while they slumbered and then callously slit their throats.
To add even more heart-wrench to the tragedy, the family's faithful dachshund, Pretzel, lay lifeless beside two of the innocent children. Nelson killed their pet too.
The story doesn't end there...
Following the horrific murders, Nelson hopped in his vehicle and headed to Milwaukee, intending to make his wife his seventh victim. Thankfully, she survived the attack, and Nelson was subsequently apprehended by law enforcement.
What Fueled The Monster's Evil Actions?
Nelson admitted to police that he "snapped" when his wife mentioned wanting a divorce. Her trip to Milwaukee may have unknowingly helped her escape a fate similar to her children's.
Simon Peter Nelson received a sentence of six concurrent life terms and first became eligible for parole in 1986. However, each time his early release was under consideration, county prosecutors vehemently opposed it, citing the indelible scars Nelson's heinous crimes had left on the Rockford community.
Nelson was one of Winnebago County's most brutal killers, and the impact of his terrible crimes continues to haunt the community. (Former Winnebago County State's Attorney Joe Bruscato's comments to Rockford Register Star)
The Illinois State's Attorney's Office did everything in its power to keep Nelson behind bars for the murders, for more than 40 years. Simon Peter Nelson passed away from natural causes in 2017.
His demise may have brought some closure to a dark chapter, but the memory of his horrific crimes remains etched in the collective memory of Rockford, a city scarred by an unimaginable tragedy.
Illinois' 10 Most Infamous People
Here are some of the most infamous people in Illinois history, their crimes or controversies, and their impact.
25 True Crime Locations: What Do They Look Like Today?
Below, find out where 25 of the most infamous crimes in history took place — and what the locations are used for today. (If they've been left standing.)
More From Rockford's New Country Q98.5