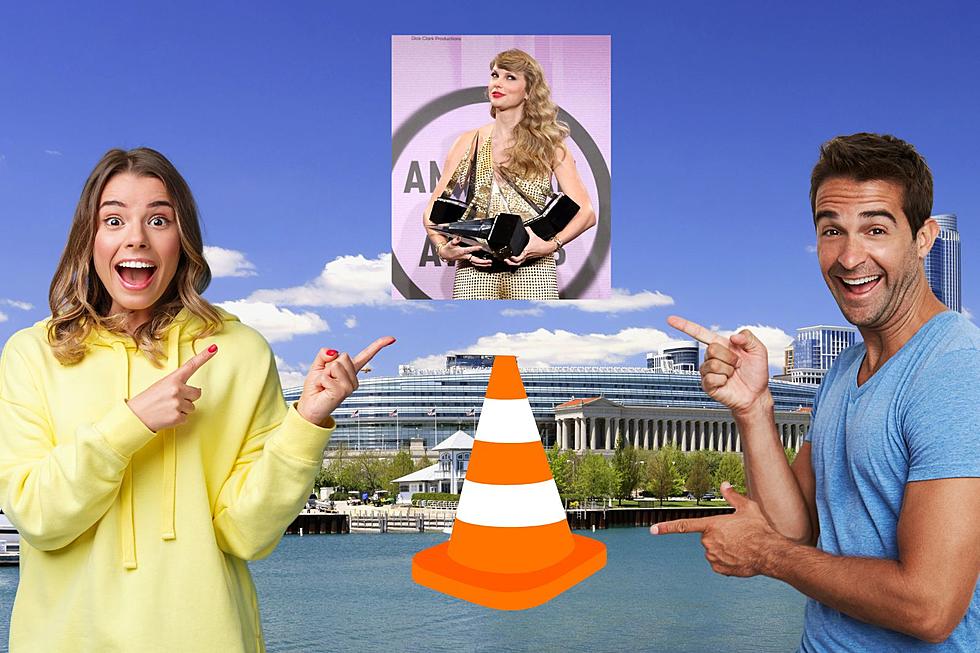 Going to Taylor Swift in Chicago This Weekend? Better Leave Now.
Canva, Getty Images
Traffic is always an adventure when driving into Chicago, but when one of the biggest music stars on the planet sets up camp in the city for 3 days, there could be some epic backups this weekend.
Don't Get Caught in Traffic Like Some Janet Jackson Fans Did
There have been way too many stories this week from Janet Jackson fans who were caught in a gridlock of stopped traffic in Tinley Park this past Saturday night (5/27) on the way to her concert.
According to one story from WGN, a man was on his way to the show, and only 1.3 miles from the Hollywood Casino Amphitheater at 7:30 pm. With the traffic at a complete standstill, he didn't get into the concert until 10:03 pm.
How Early Can You Get Into the Taylor Swift Concert
For all 3 shows (Friday, Saturday, Sunday) the parking lots will open at 2 pm, the gates of Soldier Field will open at 4:30 pm, and the show will begin around 6:30 pm.
Parking passes for the Soldier Field lots are completely sold out for all three shows, but there are other places where you can buy a guaranteed parking place that have shuttles to Soldier Field.
Additional parking will be available on a first come, first serve basis at the McCormick Place Parking Lots accessible from 31st Street.
Shuttles to and from Soldier Field for the Taylor Swift concerts will be operating from the Millennium Park garages.
Where to Pick up and Drop-off Your Kids for Taylor Swift Concert
There's been an area designated for parent drop off and pick up at the show, plus there's always the rideshare services that will be available through their apps.
According to the Soldier Field website, the area for picking up your kids will be "on Columbus Drive (between Roosevelt Road & Balbo Drive)."
Vehicles may only enter this area on Columbus Drive at Balbo beginning at 10:30pm. Parents must stay with their vehicle if utilizing this pickup area. Security staff will be present post-concert to guide fans to the Rideshare & Parent Pickup area.
If you need more information about parking, pick-up, or other general information about the Taylor Swift concerts, CLICK HERE.
30 famous people you might not know were college athletes
Stacker
dug deep to find 30 celebrities who were previously college athletes. There are musicians, politicians, actors, writers, and reality TV stars. For some, an athletic career was a real, promising possibility that ultimately faded away due to injury or an alternate calling. Others scrapped their way onto a team and simply played for fun and the love of the sport. Read on to find out if your favorite actor, singer, or politician once sported a university jersey.
The Best Country Singer From Every State
Some states, like Oklahoma and Texas, are loaded with famous country singers. Others, like Nevada and Maine, are still looking for a real breakthrough artist. See the best and most successful country music artist from all 50 states, starting with
Hank Williams
and Alabama.
More From Rockford's New Country Q98.5