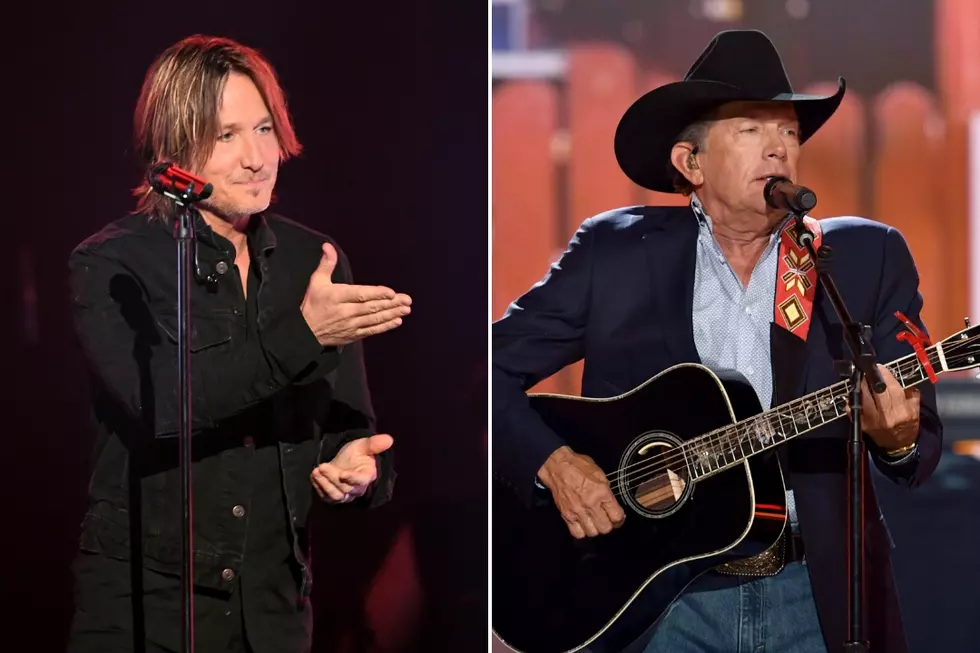 Keith Urban Offered to Jump Out of George Strait's Birthday Cake, But Strait Has Someone Else in Mind
Kevin Winter (2), Getty Images
In early April, Keith Urban helped country icon Loretta Lynn celebrate her upcoming 87th birthday by jumping out of a giant (fake) birthday cake during Lynn's birthday concert at Bridgestone Arena in Nashville. It was the fulfillment of a birthday wish from Lynn, but when Urban offered to reprise his performance for another country legend's big day, he turned him down.
"He said, 'I can't believe you're jumping out of a cake!'" Urban recalls, adding that he then offered to do the same thing for Strait's 87th birthday (which, for those keeping score, won't be until 2039).
"He said, 'I think I'll have Lee Ann Womack do it,'" Urban recounts, "'but thank you.'"
George Strait Songs Will Love This New Country Star:
Both Urban and Strait performed at Lynn's birthday bash concert, which took place on April 1. The lineup for the event also included Garth Brooks, Trisha Yearwood, Miranda Lambert, the Pistol Annies, Alan Jackson, Kacey Musgraves, Margo Price, Brandy Clark, Darius Rucker, Little Big Town, Martina McBride and Jack White, among others.
"I wasn't going to let it stop me," she tells People. "You just can't sit down and say, 'Hey, take me.'"
See More From Loretta Lynn's Birthday Celebration
More From Rockford's New Country Q98.5