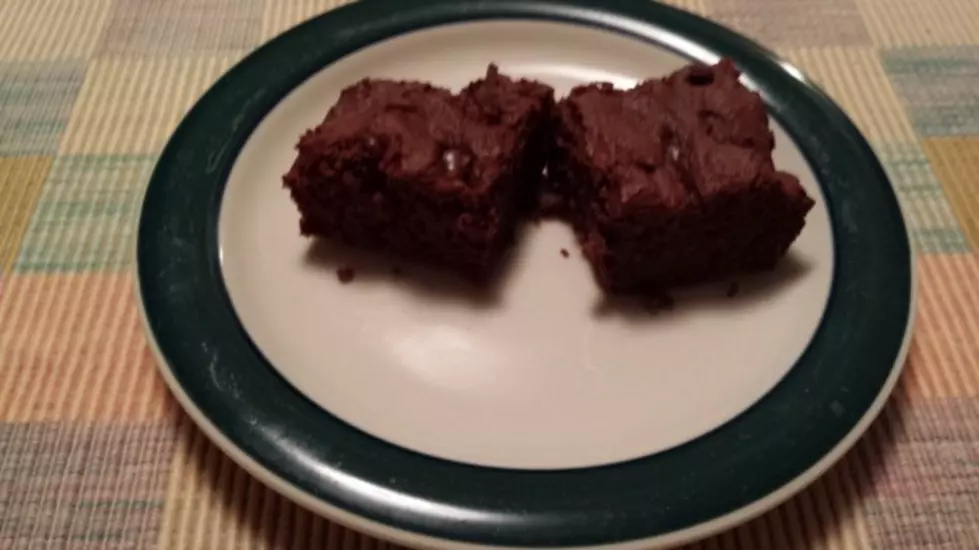 Susan Tyler; Townsquaremedia
If you love chocolate and you like yogurt, then I think you're gonna like this recipe.
This weekend I found myself trying to use up the last of the container of Greek yogurt I had. I came across this article for Five Quick and Easy Yogurt Desserts, that included these yummy brownies.
I think the next time I make it I would add more chocolate chips and make a a hot chocolate sauce to drizzle over it.
Fudgy Yogurt Brownies
Makes 12
INGREDIENTS
1 cup all-purpose flour
1/2 tsp. baking powder
1/4 tsp. salt
1 cup semisweet chocolate chips, divided
6 Tbsp. (3/4 stick) unsalted butter
1 cup granulated sugar
1/2 cup cocoa powder
1 tsp. vanilla extract
1 cup plain whole-milk Greek yogurt
PREPARATION
Preheat oven to 350 degrees. Butter and flour a 9x9x2-inch metal baking pan.
Whisk flour, baking powder, and salt in a large bowl. Combine 1/2 cup chocolate chips and butter in a large stainless-steel bowl. Set bowl over a saucepan of simmering water and stir until chocolate and butter are melted and smooth. Remove bowl from heat; whisk in sugar, cocoa powder, vanilla, and yogurt. Fold wet ingredients into dry ingredients. Fold in remaining 1/2 cup chocolate chips. Pour mixture into prepared pan.
Bake until a tester inserted into center of brownie comes out with a few moist crumbs attached, 25-28 minutes. Let brownie cool completely. Cut into squares with a sharp knife.
More From Rockford's New Country Q98.5