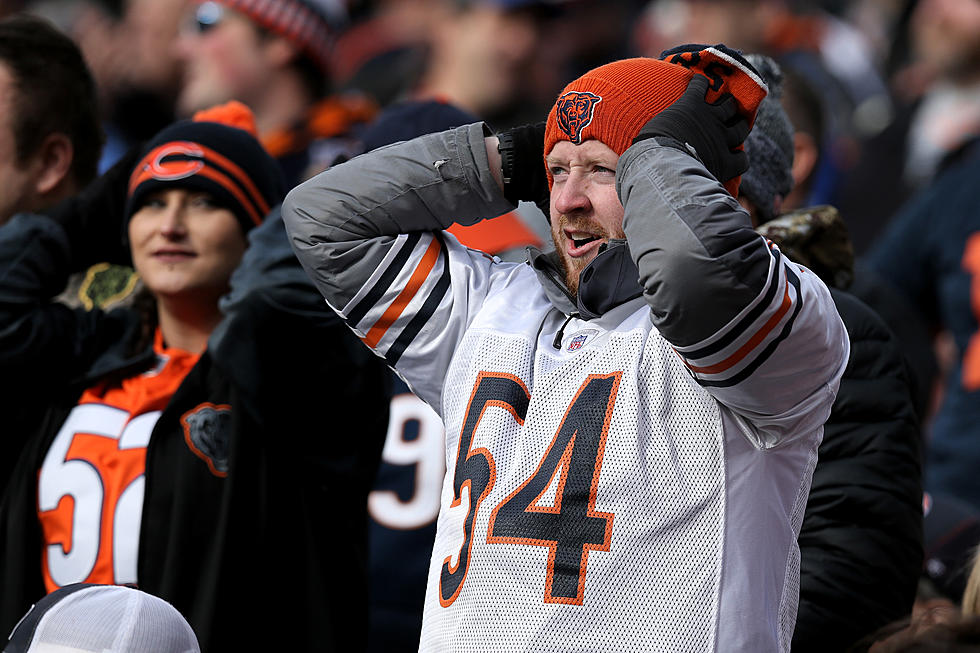 Yikes Illinois! You're Some of the Saddest NFL Fans
Getty Images
If this week of weird isn't already making you feel a little sad, get ready to read this story.
Being a sports fan is tough stuff, especially when we're talking about being an NFL fan. Your team only has one chance a week to wow the crowd and grab a victory.
If you disappoint your fans, that's it! You don't have another chance to win until NEXT WEEK.
At least in basketball, baseball and hockey there are games almost every day, but no, football is a whole nother ball game.
Which makes a lot of people sad.
But how sad?
According to a Lineups website, the saddest fans in the NFL are not in Illinois, but in Dallas.
The actual phrasing they're using is the 'NFL Fans Most Likely to Cry Over a Team.'
So it's good we didn't take the top spot. But we did come in the top ten.
The Chicago Bears ranked number 9 on the list. Which actually is better than I expected.
I know you're wondering who else is on that list, I'm here for you, I'll let you know.
Dallas Cowboys
New England Patriots
Green Bay Packers
Philadelphia Eagles
Pittsburgh Steelers
Cleveland Browns
Detroit Lions
New York Jets
Chicago Bears
Kansas City Chiefs
Did you expect the Packers to be above the Bears on this one? I totally did not!
However... perhaps... the Bears have disappointed their fans so many times that we're used to it, so we are a little less sad.
30 famous people you might not know were college athletes
Stacker
dug deep to find 30 celebrities who were previously college athletes. There are musicians, politicians, actors, writers, and reality TV stars. For some, an athletic career was a real, promising possibility that ultimately faded away due to injury or an alternate calling. Others scrapped their way onto a team and simply played for fun and the love of the sport. Read on to find out if your favorite actor, singer, or politician once sported a university jersey.
28 Photos of a Former NBA Star's Abandoned Illinois Mansion
Look inside the sad and weird remains of a mansion, completed in 1988.
More From Rockford's New Country Q98.5