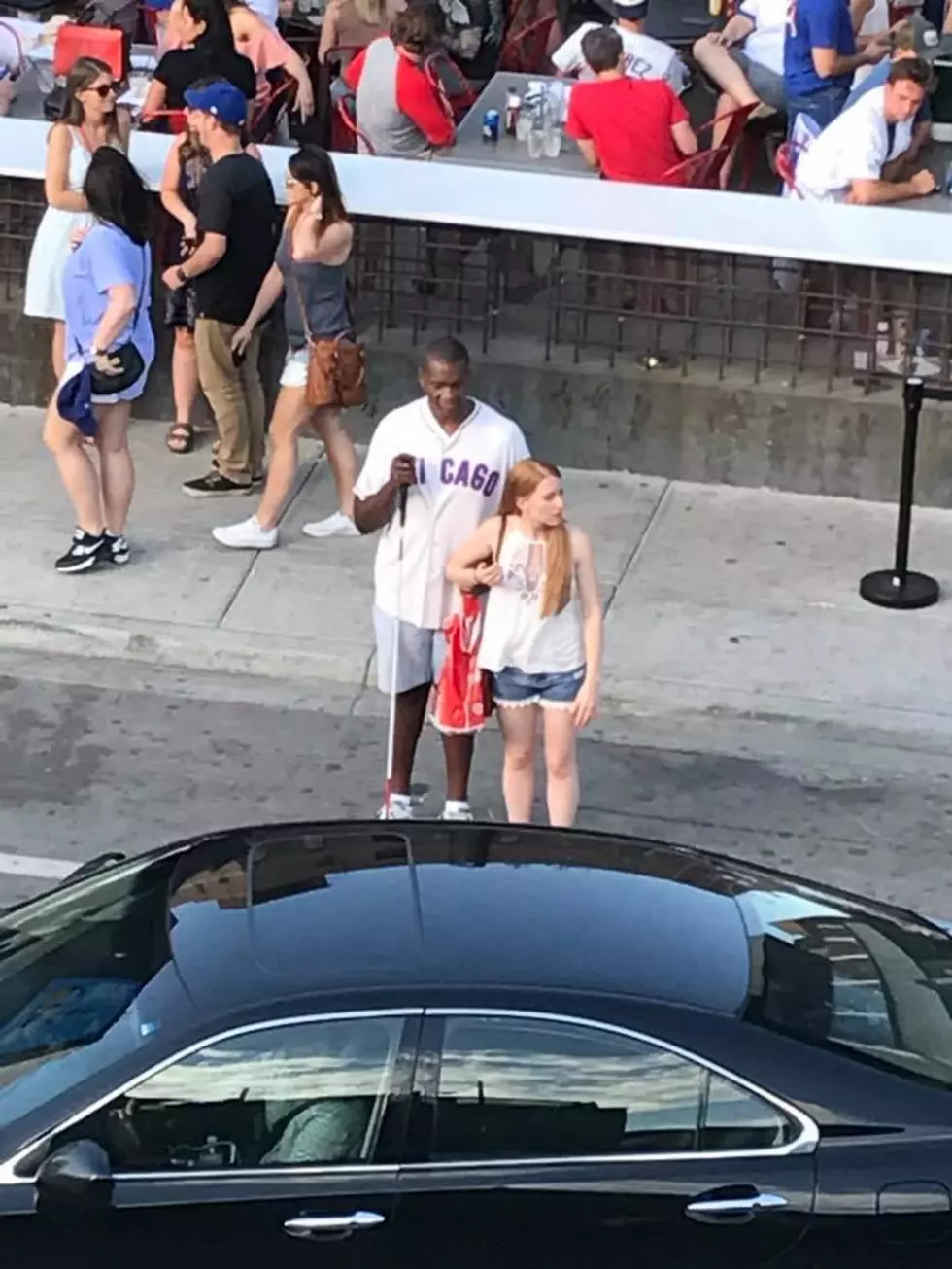 Woman's Good Deed for Blind Cubs Fan Has Gone Viral
Ryan Hamilton via Facebook
Here's proof that they don't call Chicago's Wrigley Field the "friendly confines" for nothing.
Last Saturday in Chicago a man was enjoying the day rooftop in Wrigleyville when he noticed something awesome and took to social media to praise the stranger for the good deed.
Turns out the woman pictured is 26-year-old Casey Spelman from Indianapolis who was visiting Chicago last weekend when she noticed a blind Cubs fan trying to hail a cab outside Wrigley. Spelman told WXIN in Indiana that when she saw the blind man standing in a crowded street she walked up to him and said;
 'hi are you trying to get a cab' and he said 'yes' and I said 'would you like some help' and he said 'that'd be great,'"
Spelman then grabbed the man's hand and hailed a cab for him. Before he left in the cab the man said to Spelman,
"Give me a hug,' and I gave him a big hug, and he said 'God bless you and have a great night' and I said, 'Thank you, you too".
Ready for the most ironic/incredible part of the story? The man who posted the picture on Facebook, Ryan Hamilton, is also from Indianapolis but has never met Casey Spelman. This is just a story of two Hoosiers visiting the Windy City when one notices the kindness of another and decides to share it. Coincidence? Fate? I don't know, but I will say this, if both Hamilton and Spelman are both single, I think they need to fall in love to make this story even more awesome.
Now, to answer the final piece of the puzzle. Who is the blind Cubs fan in the picture? According to WGN, he's Yusef Dale, an assistant U.S. attorney who spends his days at the Dirksen Federal Building in Chicago. In fact, Dale told WGN that he was alerted to the picture of him that has gone viral by a good friend that just happens to live in Indianapolis. He said this friend called and asked him;
'You never accept help. How did it come to be that that day you came to accept some help?'"
The reason? The streets were busy and chaotic, and his hearing was impaired. Dale also told WGN Spelman offered help in the most respectful way possible;
She did not presume I was incompetent or unable," he said.  "She didn't get in my personal space and most importantly, she didn't touch me, which is an issue for some people with disabilities.
See folks, it really is the little things that matter the most.
---
More From Rockford's New Country Q98.5