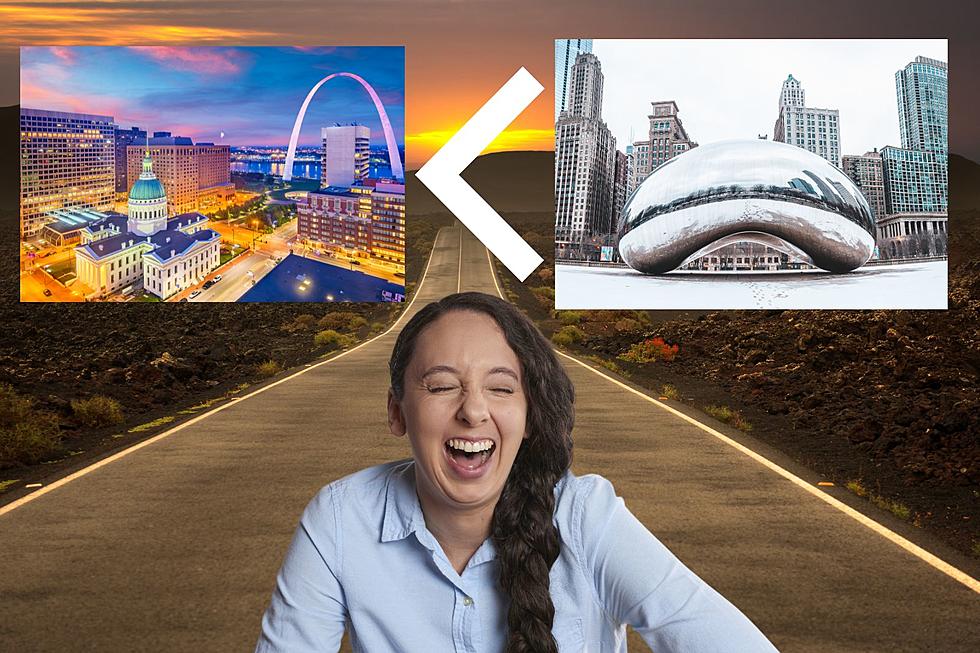 10 More Reasons That Prove St. Louis is Way Worse Than Chicago
Canva
Anytime the St. Louis Cardinals make a visit to Chicago and are in last place, it doesn't take much to bring up all those feelings and memories of why we dislike the team and that city so much.
And while it's my opinion that St. Louis is a way worse city to live in than Chicago, I can back that up with some stats and facts that prove the city with an arch is worse than the city with a bean.
Here are at least 10 reasons St. Louis is Worse Than Chicago
St. Louis is More Dangerous Than Chicago according to a survey by the Boutique Traveler using FBI crime data. St. Louis is the 5th "most dangerous city in the U.S." because of a significant violent crime problem and the highest murder rate in America.
St. Louis was also ranked the 10th most dangerous city in the World.
Chicago didn't rank in the Top 15 for "most dangerous city," but Rockford, Illinois, and Milwaukee, Wisconsin did.
St. Louis is Worse for Visiting than Chicago says MapQuest travel because "the high crime rate is mostly blamed on the declining economy with many of the 318,069 long-time residents leaving the city for greener pastures.
St. Louis Dresses Worse Than Chicago in my opinion. Just look at Wilson Contreras in a Cardinals uniform.

St. Louis Drivers are Worse Than Chicago Drivers is what this compilation of data shows from Clever Move. St. Louis ranked #23 for worst drivers in the U.S., while Chicago was down on the list at #40.
St. Louis is More Violent than Chicago according to a study from World Population Review that ranked #1 in America for worst violent crimes, with Chicago at #20.
St. Louis' Economy is Worse than Chicago's because of an average weekly wage of $1080 and the second-lowest GDP rate of all big metro areas with 0.5%.
St. Louis is Worse for Human Trafficking and ranked #14 in the U.S. with 35 cases of trafficking reported between 2006-2016. Chicago didn't show up on the list.
St. Louis' Public Transportation is Worse Than Chicago says Metro-Magazine.com with Chicago ranking 10th in the U.S. and St. Louis at 17th for the condition of buses, trains, and boats.
St. Louis Museums are WAY Worse Than Chicago and that's not hard to say since the Windy City is 13th in the U.S. for best museums, and besides a Cardinals museum, I can't name one single museum that's located in St. Louis.
St. Louis is Worse for Car Thefts than Chicago is, but who gets all the national attention about the thefts? Chicago does. But in reality, is the STL where there's a lot of STeaLing of vehicles happening.
St. Louis Cardinals Have a Worse All-Time Record Than the Chicago Cubs and the head-to-head record also goes to the boys from the northside of Chicago.
LOOK: Here's where people in every state are moving to most
LOOK: Here is the richest town in each state
Just saying the names of these towns immediately conjures up images of grand mansions, luxury cars, and ritzy restaurants. Read on to see which town in your home state took the title of the richest location and which place had the highest median income in the country. Who knows—your hometown might even be on this list.
More From Rockford's New Country Q98.5