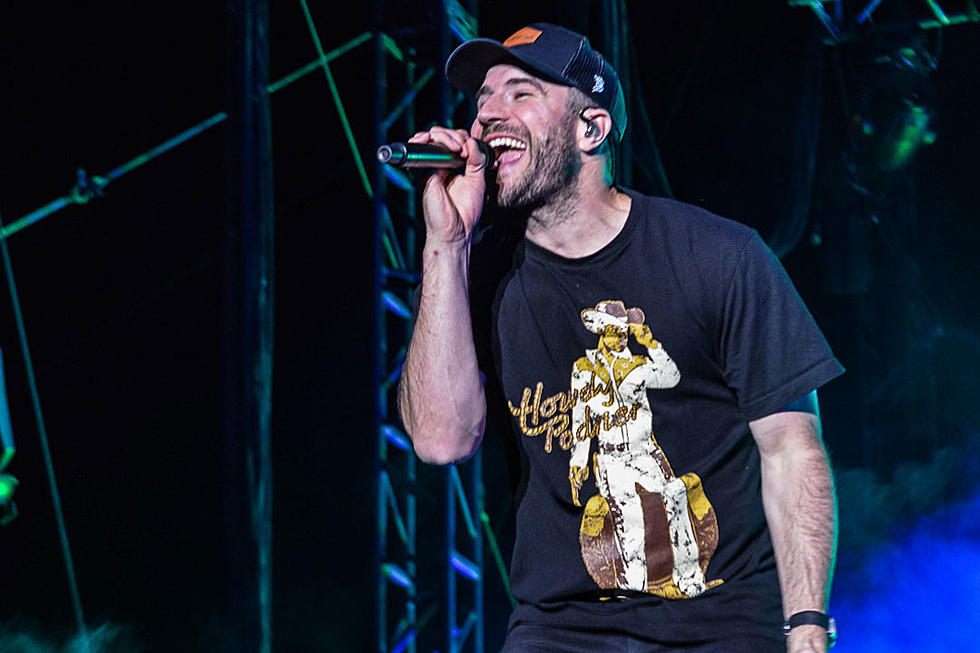 Sam Hunt Updates Fans on New Music During Carefree Country Jam Set
CJ Berzin for Country Jam
Sam Hunt is only playing four concerts in 2019, but each one appears to be a circled date on his calendar. The "Body Like a Back Road" singer was living carefree and easy during a 90-minute headlining set at Country Jam in Grand Junction, Colo., on Friday (June 14). At one point he even hung from the stage scaffolding!
Hunt's appreciation for the fans who paid to see him was evident from the beginning of a lively, if loose, set. During "House Party," his second song after bounding to the stage to sing "Leave the Night On," the 34-year-old jumped into the crowd and made it past all the white chairs to the soundboard before scrambling back to get to his microphone before a guitar solo finished.
On two occasions he talked about how with so few shows planned this year, he was soaking up every moment. It wasn't just lip service. A smile permeated his party songs and love ballads ("Raised on It," "Cop Car" etc. ...) and he did his best to make the wide-open desert venue feel intimate by telling stories of his early struggles, romantic conquests and how he's spending his year away from the road.
It's been a year since Hunt released a new song, and two since he notched a major hit. Look for that to change, he said from the stage. The point of taking 2019 off was to have time to write and record new music, something he says he's planning on doing as soon as next week. Prior to performing, he told the Boot the music he's working on has a singer-songwriter vibe to it, but on stage and off he remained vague about a timetable, only saying he hoped it would be in the next couple of months.
Sam Hunt, Traditionalist? It's Not Crazy!
Fans were happy to settle for the hits and deep cuts from his early career. Acoustic tracks from his Between the Pines EP continue to make his set list, with most resembling their original form even if they made his more heavily produced Montevallo album one year later.  "Speakers," "Saturday Night" and "I Met a Girl" (a later hit for William Michael Morgan) were shined up for this audience, most of whom responded more enthusiastically to hits like "Take Your Time" and "Break Up In a Small Town."
The flow of a Sam Hunt concert finds him paying tribute to influences toward the end of the night. In past years it's been a hip-hop and R&B mix (2017) or a classic country medley (2018). On Friday night it was a Waylon Jennings cover of "Belle of the Ball," and it was a highlight for purists. Hunt really can be a great vocalist when he slows down, and his storytelling is nearly unparalleled. The young fans in the audience may have taken the moment to grab a beer, but those who focused found a moment to remember and perhaps an entry point to Jennings' vast library.
Sonically Hunt's band was well-rehearsed, and lyrically he didn't miss a beat. A few breaks between songs lasted longer than you'd expect, and his between-song storytelling slowed the pace of a mostly emphatic show. "Miss You More" and "Body Like a Back Road" wrapped the night, the latter of which turned into a massive sing-along easily heard well beyond the limits of the venue's gates. Thousands of fan voices echoed off the dusty cliffs surrounding the canyon. Once again, Sam Hunt refuses to be boxed in.
See Pics of Sam Hunt + More From Country Jam 2019:
More From Rockford's New Country Q98.5