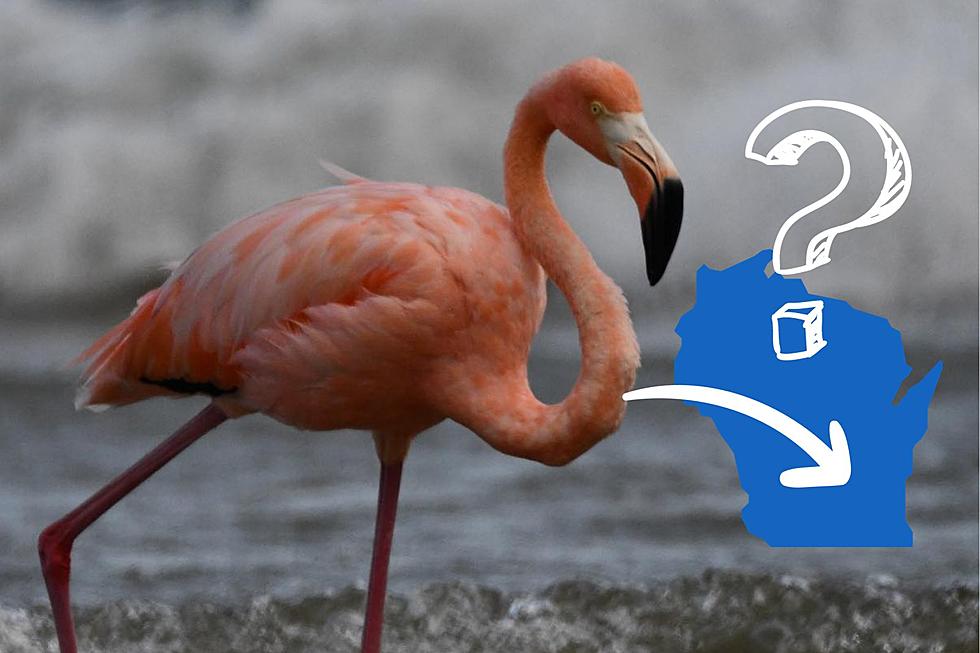 5 Flamingos Are Causing Quite the Uproar in Wisconsin Right Now
Erin LeFevre via Facebook, Canva
In the last week, 5 flamingos have been spotted visiting different lakes throughout Wisconsin, but the big question is; why are they so far North?
Things You Expect to See in Wisconsin
There are certain things you can expect anytime you visit Wisconsin:
Drinking a LOT of beer or Old Fashioneds
Seeing a LOT of Green Bay Packers, Milwaukee Brewers, and University of Wisconsin shirts, flags, etc.
Eating a LOT of cheese
Hearing a LOT of people talking about the most recent deer they got or fish they caught.
Of all the things you can expect to see and experience in Wisconsin, there is one thing that never makes the list; seeing flamingos on the lake!
Flamingos in Wisconsin
When you hear about flamingos being spotted on Wisconsin lakes your mind probably goes immediately to plastic flamingo decorations, but that's not the case here.
On September 22, 2023, five American Flamingos were spotted enjoying the waters of Port Washington, Wisconsin, and the city was in an uproar of excitement...

These beautiful birds have since moved out of Port Washington and into Adams County, Wisconsin, where they were spotted on Lake Pettwenwell over the weekend...
Lake Petenwell is located like 10 minutes away from where my family's lake house is, so now I'm 100 percent jealous that I wasn't up there this past weekend to see them!
Why Are Flamingos in Wisconsin?
In case you were wondering, the flamingo sightings that have been reported in Wisconsin this week are a first for the state. The Milwaukee Journal Sentinel reports wildlife biologists saying these birds were "likely blown north in late August by Hurricane Idalia", and that flamingos have been spotted in Indiana, Kentucky, Ohio, and Pennsylvania as well.
Hopefully, the flamingos get their directional coordinates back online soon because it's about to get cold in this part of the country, and they will definitely not like it.
LOOK: Stunning animal photos from around the world
From grazing Tibetan antelope to migrating monarch butterflies, these 50 photos of wildlife around the world capture the staggering grace of the animal kingdom. The forthcoming gallery runs sequentially from air to land to water, and focuses on birds, land mammals, aquatic life, and insects as they work in pairs or groups, or sometimes all on their own.
Gallery Credit: Nicole Caldwell
LOOK: 11 tick-borne illnesses and what to watch out for during your outdoor adventures
Stacker
compiled a list of 11 common tick-borne diseases in the U.S. and what symptoms to watch out for, using a variety of medical and government sources.
Gallery Credit: Martha Sandoval
More From Rockford's New Country Q98.5