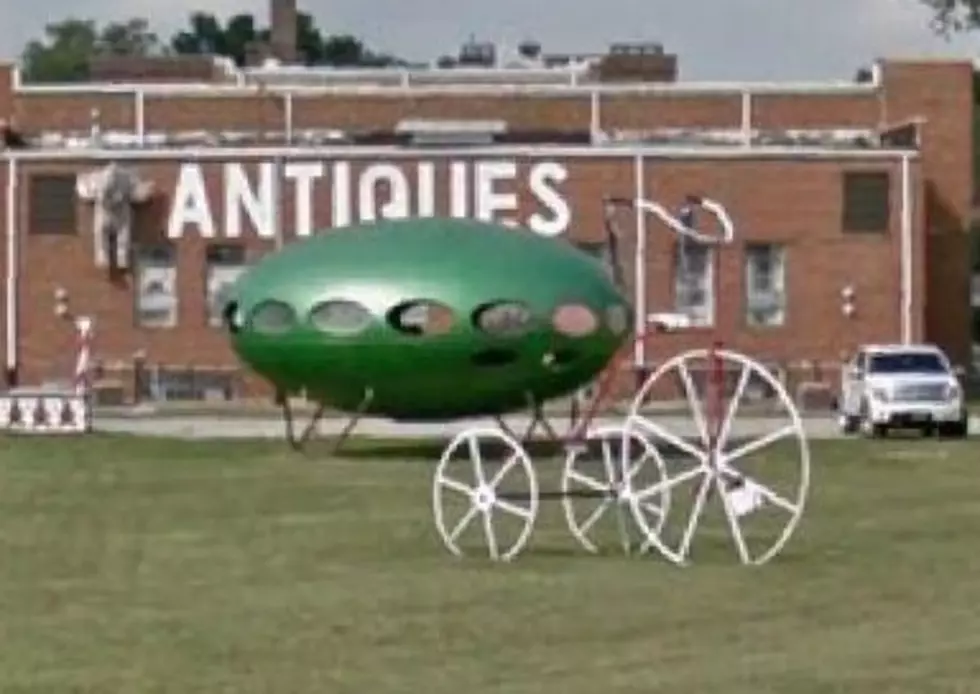 Check Out these Weird Landmarks in Illinois
Google Streetview
With summer just around the corner it's time to start planning vacations and fun weekend getaways.
Make sure your stops including checking out these weird landmarks found only in our state of Illinois.
Reboot Illinois put together this list of the fifteen strangest and weirdest landmarks that can be found only in Illinois. One of these on the list I just drove recently on my way to Florida on I-55.
I saw this flying saucer and giant tricycle along pink elephant and a giant statue of a man in swim trunks in Livingston, I thought the antique shop there was selling them. I guess not.
If that's not strange enough here's a few more places you should check out.
In fact, there's one not to far from us in Bull Valley that I didn't know about. It's the house with no corners built by George Stickney:Apparently, George felt if a house had no corners then ghosts could "float freely without  getting snagged."
You can stop by and see the Purple Martin Houses of Griggsville, IL. The town is sandwiched between the Illinois and Mississippi Rivers which means tons of mosquitoes. Purple martins eat mosquitoes, so the town has erected ornate birdhouses for the birds.
- Yale, IL has the special Mug Tree. It's a trunk of a dead tree that's loaded with mugs that people from all over hang on it. Seriously. Check out their face book page: Mug Tree.
- Findlay, IL has the Goat Tower of Baa. It's an actual tower made for goats to climb. Don't believe me, check out their website here.
- Taylorville, IL has a statue of JFK in the middle of the OakHill Cemetery.
- Lincoln, IL has a telephone booth atop of the Lincoln Fire Department. It's rumored it's there as a watch tower  for tornadoes.
- Shelbyville, IL has a Mobile Wedding Chapel. "It holds the Guiness World's Record for the fastest wedding chapel."
- Gays, IL has the two story outhouse. You can even check-in on facebook at: Two Story Outhouse
- Benville, IL has the graveside for the World's Heaviest Man, Robert Earl Hughes.
- Vandalia, IL has a fire breathing dragon. Click here to see the Kaskaakia Dragon.
- Chicago, IL has the Fountain of Poop. Yes it is what you think a bronze sculpture in the shape of poop. The artist got fed up with owners letting their dogs poop in his yard so he made a sculpture to remind them. Seriously.
If I hadn't of saw the flying saucer driving down I-55, I wouldn't have believed in any of these other places. They are real. and what gets me is most have their own websites and/ or facebook pages designated for their interesting, to say the least, landmark.
So, who's up for a road trip?
Ok, if these don't trip your trigger maybe checking out these great places to hike in Illinois will.