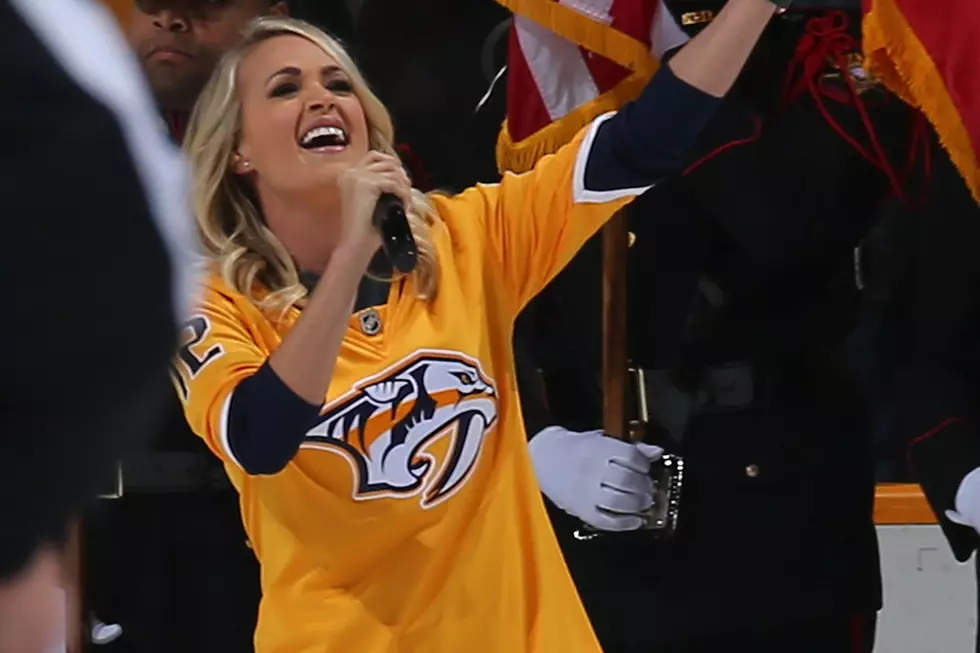 Carrie Underwood's Son Is So Proud of Mama's Anthem Performance!
Frederick Breedon, Getty Images
Carrie Underwood's son, Isaiah, was so proud of his mama's National Anthem performance before Game 2 of the Nashville Predators NHL playoff game that he couldn't contain himself.
The 3-year-old is seen bouncing up and down as he claps for Underwood, who sang Sunday night (April 29). She shared video on Instagram, adding that the moment made her heart happy:
The rest of Underwood's Instagram video caption reads:
As a child, I wanted nothing more than to make my parents proud of me...and now, as a mother, I want to make my child proud... He never really gets to see me sing because he's in bed before I go on stage, but last night he was there to watch his daddy play...and he also got see his mommy sing for a minute.
No doubt adding to her good vibes was the Predators' dramatic 5-4, double overtime win. Underwood's husband Mike Fisher is a center on the team, returning after a short retirement following the 2017 Stanley Cup Finals playoff run. Game 3 of the series against the Winnipeg Jets is Tuesday night (May 1). The series is tied at one game apiece.
In general Underwood doesn't share many pictures of her baby boy, saying she tries to protect his privacy to an extent. More often than not his face is hidden or obscured, as it is by poor lighting in the above video. She has recorded one song about him thus far. "What I Never Knew I Always Wanted" from the 2015 Storyteller album was inspired by Isaiah and her husband.
In September the singer will release her new album, Cry Pretty.
Carrie Looked Amazing at the ACM Awards!
More From Rockford's New Country Q98.5