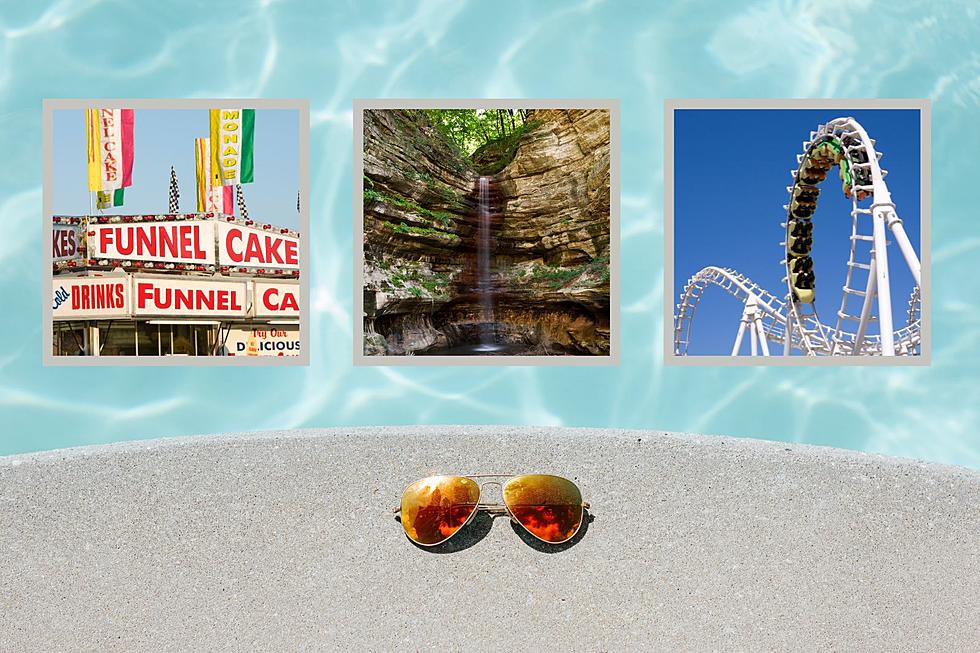 5 Things You Need to Do in Illinois This Summer
Canva
Summer is upon us and Illinois is bursting with fun places to see, visit, and experience. Here are 5 summer attractions in Illinois that definitely need to make this year's to-do list.
Summer Fun in Illinois
Let me get real for a minute, anyone who says there's nothing fun to do in Illinois, especially during the summer months, has completely lost their dang mind.
From taking in a baseball game at Wrigley of Guaranteed Rate Field to visiting world-renown museums, restaurants, or entertainment venues, Illinois has something for everyone to enjoy, and I'm talking throughout the entire state, not just in Chicago.
5 Great Summer Attractions in Illinois
If your budget won't allow for a major summer vacation this year, just plan several family-fun staycations in Illinois instead.
I went on a search for new things to do in Illinois with my family this summer and I came across some great ideas on onlyinyourstate.com and busytourist.com.
1. Relax at one of Illinois' beautiful beaches
Wisconsin may get most of the lake and beach glory in the Midwest, but Illinois has a TON of beautiful lakes and beaches to relax and play in too. Oak Street Beach in Chicago, Lighthouse Beach in Evanston, and Sunrise Park in Lake Bluff are three beaches that usually fall on any best-beaches-in-Illinois list.
2. Attend the Illinois State Fair (or your local county fair)
Going to a fair in the summer is a give-in for most Illinois families, but if you have never taken your family to Springfield for the Illinois State Fair before, you totally need to! There's a TON of food, ride, and entertainment options throughout the grounds, a Butter Cow, and FABULOUS Grandstand concerts lined up for 2023 including; Tim McGraw, Maren Morris, Old Dominion, Alanis Morisette, Nelly, REO Speedwagon, and more still to come!
3. Go hiking and see the waterfalls at Starved Rock State Park
Every Illinoisan MUST visit Starved Rock State Park in Utica at least once during their lifetime. Located along the Illinois River, this park features breathtaking waterfalls, canyons, awe-inspiring rock formations, plenty of scenic hike opportunities through the forest, and even a chance to take a relaxing boat ride on the river.
4. Experience Chicago's Navy Pier.
I am ashamed to admit I have been by Navy Pier in Chicago several times in my life but have never taken the time to enjoy all it has to offer. Its iconic Ferris Wheel offers breathtaking views of the city skyline and lakefront, plus there's a ton of great food, shopping, games to play, live entertainment, and even fireworks to enjoy during the summer.
5. Get Your Thrill On at Six Flags Great America
Six Flags Great America in Gurnee is a great place for families with kids or people who just love a good thrill. It doesn't matter if you're a scream-your-head-off-on-a-rollercoaster person, or the person who likes to sit back and enjoy good food and entertainment, Six Flags is ready to deliver.
Summer Fun Near Rockford
Now that I've given you a few Illinois road trip ideas for summer fun, let me throw in a few more options specific to the Rockford area:
Here's hoping your family has its best summer yet!
This Nautical Illinois Airbnb Has Its Own Private Beach
20 of the Best Day Trips to Take From Illinois
More From Rockford's New Country Q98.5