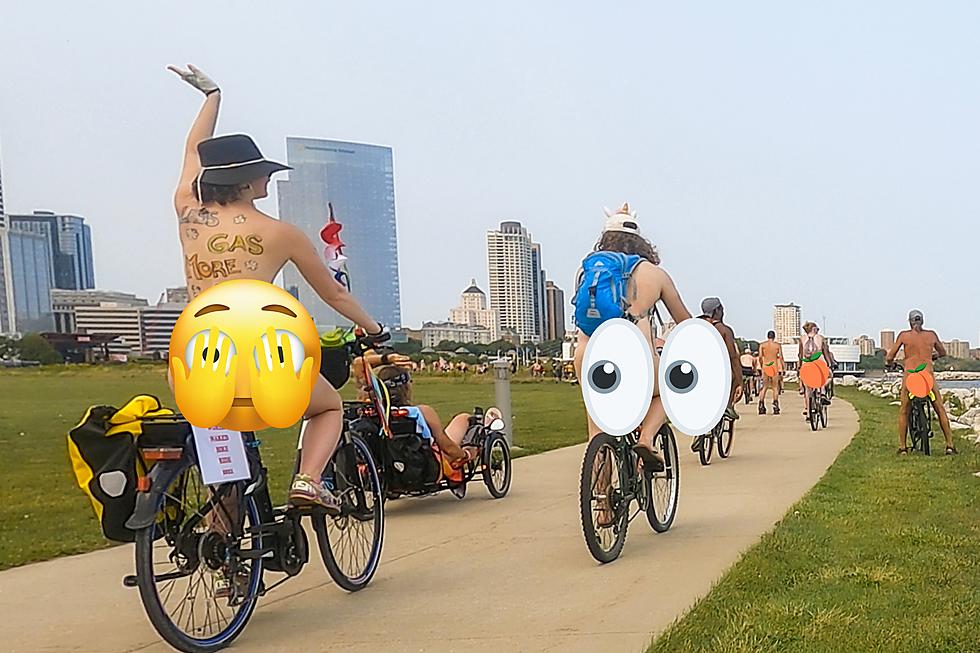 Butt-Naked Bikers Take Over Illinois & Wisconsin
World Naked Bike Ride - WNBR Milwaukee via Twitter
Gear up and prepare for a butt-naked extravaganza as the World Naked Bike Ride streaks through the streets of Chicago and Milwaukee.
This is all about body positivity, environmental consciousness, and a healthy dose of hilarity for all participants and spectators alike.
It's the wildest event where human beauty and bicycle chains collide in a symphony of laughter and jiggling body parts.
While the ride encourages you to embrace your birthday suit, full-frontal nudity is still a no-no in Chicago and Milwaukee.
The World Naked Bike Ride is a celebration of freedom, body acceptance, and, of course, a good laugh.
So, whether you're a participant or just a curious spectator, prepare yourself for an evening filled with laughter, eye-catching sights, and a true testament to the adventurous spirit of these two great cities.
Keep Your Eyes On The Road
If you're passing by these groups, remember to keep your eyes on the road (and maybe bring a pair of sunglasses) because you never know what might be coming around the bend—quite literally.
READ MORE: Have You Seen This Nearly Naked Man Riding a Motorcycle in Wisconsin?
On Saturday, June 24, from 8 pm until t midnight, brave souls will gather for the World Naked Bike Ride Chicago, according to TimeOut.
Here are the routes, shared by @ChiNakedRide.
-pic- Milwaukee
World Naked Bike Ride Milwaukee Route
Milwaukee participants will want to grab some sunscreen because their naked pedal party starts at 4 p.m.
Starting at Kochanski's Concertina Beer Hall, riders will be greeted by lively music from five bands, vendors, tantalizing food trucks, and even body painters to add some extra flair to your exposed canvas.
After soaking up the festive atmosphere, the cyclists will embark on their adventure eastward along Burnham Avenue, before making their way onto Water and Brady streets.
They'll then take a scenic loop through Veterans Park, offering stunning views for both the riders and unsuspecting park-goers, before eventually returning to the beer hall where the fun began.
Happy riding!
See the Must-Drive Roads in Every State
KEEP LOOKING: See What 50 of America's Most 'Pupular' Dog Breeds Look Like as Puppies
More From Rockford's New Country Q98.5