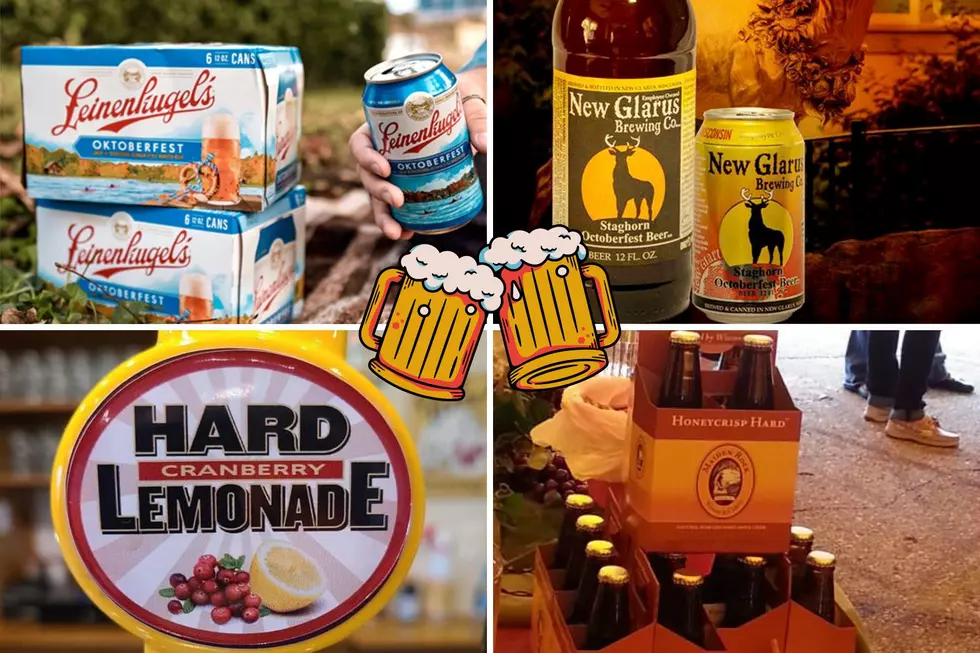 4 Seasonal Brews You HAVE to Try in Wisconsin This Month
Leinenkugel's, New Glarus Brewing Co., Maiden Rock Winery & Cidery, Sand Creek Brewing Company via Facebook, Canva
For the first time since Labor Day weekend, my family is heading to our cabin in Wisconsin this weekend, and I can't wait!
Best Things to Do in Wisconsin
When Illinoisans think about going to Wisconsin, these are usually the things that come to mind first:
Boating
Swimming
Drinking
Cheese
Spotted Cow
Since beach and boating time are definitely off the agenda, and I'm not much of a fisher person,  what can we do, where can we go to have some fun this weekend? Let's zero in on the drinking part of that list.
The Best Seasonal Brews In Wisconsin
Whenever I need to learn about cool things to do up North,  Travel Wisconsin is the first thing I turn to. From the best bars, restaurants, events, and more, Travel Wisconsin always has it covered, so when I saw them post an article about the state's best seasonal brews, I knew we all had to try them!
Which of these 4 brews will you be trying first?
1. Leinenkugel's Oktoberfest - Sure, you can buy this beer at your local grocery store if you look hard enough, BUT it's way cooler to drink it while touring the Leinie Lodge in Chippewa Falls, Wisconsin!
2. New Glarus Brewing Co.'s Staghorn - While many people from all over the country flock to this brewery for its famous Spotted Cow, Travel Wisconsin says this fall brew is the most popular with beer drinkers in Wisconsin.
3. Maiden Rock Winery & Cidery's Honeycrisp Hard Cider - Honestly, this brew had me at the words "Honeycrisp" and "hard". Venturing to this winery in Stockholm, Wisconsin to pick up a six pack sounds like a fabulous way to spend a fall day.
4. Sand Creek Brewing Company's Hard Cranberry Lemonade - If beer is not your thing, Travel Wisconsin says this "delicious balance between sweet and tart" is the perfect fall drink for you! Plus the brewery in Black River Falls look like an awesome place to visit too!
Ready for even more fall fun in Wisconsin? Here are some more great options...
Eight Wisconsin Hikes That Will Immerse You In the Beauty of Fall
Wisconsin Home Named Among Best Airbnbs to See Fall Foliage in America
More From Rockford's New Country Q98.5