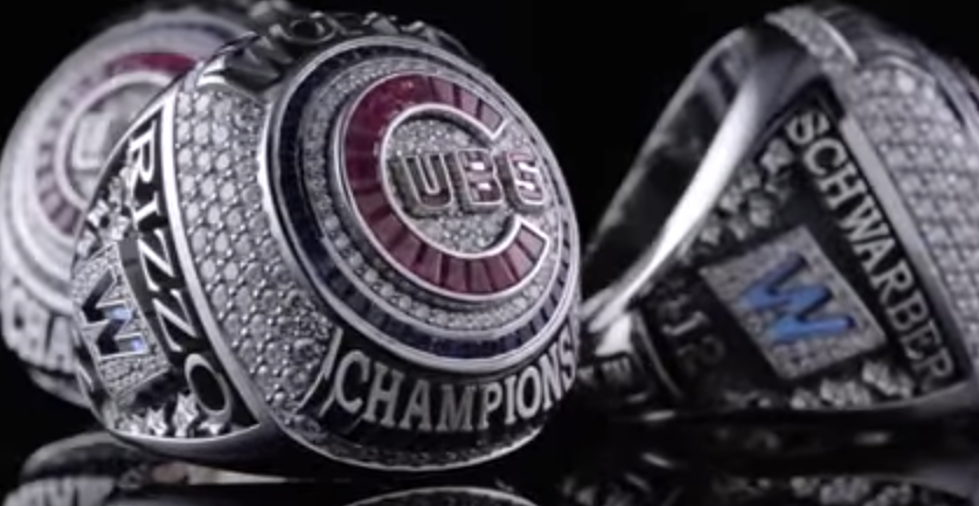 Win Yourself an Official Cubs Player-Grade World Series Ring
MLB Wolds via YouTube
If shelling out $499 for a Cubs replica World Series ring isn't feasible for you, no worries you can win an official player-grade ring from the team.
The Cubs are raffling off an official ring made just for the players on September 5th and all fans can participate for just $10 a ticket.
According to DNAInfo Chicago, the raffle tickets will be available for city residents on-line (with proof of residency), at Wrigley on game days and at the two Cub Store locations: "at the ballpark and Downtown, 663 N. Michigan Ave."
For non-city residents the tickets will be available at all the aforementioned locations except for on-line that is available for Chicago residents only.
The cool thing with this raffle, besides looking pretty snazzy with a real World Series ring, is that all of the money collected through the purchased raffle tickets will be given to the Cubs charities.
So you give a little for a great cause and you just might get a lot with that ring loaded with diamonds, sapphires, rubies all on white gold.
Just how cool would that be to have a ring just like Rizzo, Bryant and Zobrist? Oh and did I mention that it is the only official player-grade ring that will be raffled off? That's right! Only one. Now that's true bragging rights, right there. I tell ya!
Don't miss out on this. You have from now till September 4th to get in on the deal.
More From Rockford's New Country Q98.5