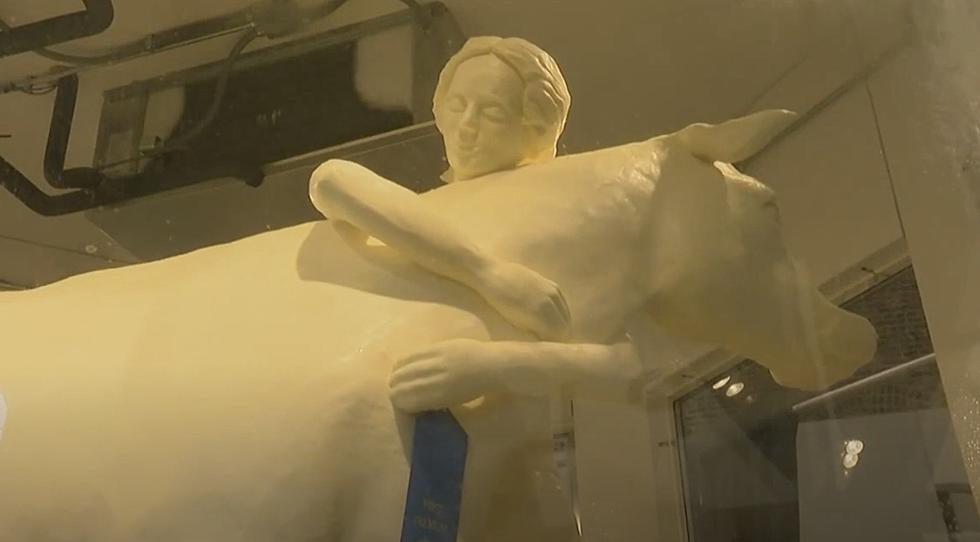 Udderly Amazing! Check Out This Year's Illinois State Fair Butter Cow
Credit NBC Chicago YouTube
That's A LOT of butter.
I can't lie, I look forward to the unveiling of the Illinois State Fair's butter cow every year. I have yet to see it ever in person. But the concept of something being sculpted out of that much butter never fails to blow my mind and give me a good laugh.
It's a tradition that is just so Illinois. Even better, this is a huge anniversary of the tradition. This year's butter cow helps celebrate the 100th anniversary of the unofficial Illinois annual tradition. This cow is HUGE.
The person hugging the cow is actually a young person embracing the animal holding a blue ribbon. So, just how much butter exactly did it take to make this massive sculpture?
The Butter Cow is made from 500 pounds of unsalted butter.
500 pounds of butter. I'm sorry, let's just take a second to appreciate how much butter that is. That's not something that can be sculpted with just a day's work. The sculpture historically takes about 5 days to complete.
Here's one thing about the butter cow I didn't know. It has its very own 24/7 webcam. To be honest, it's sort of creepy when it's dark. But I just find it hilarious you can check in on this thing throughout the duration of the fair.
That webcam can be found here.
The Illinois State Fair runs through August 22. So if you want to see Butter Cow in person, you have until then to do so. Or you can just obsessively watch the webcam like I'll be doing.
OH NO WE DIDN'T: 12 Photos That Prove That Alpacas Are Cuter Than Llamas
7 Foods You Didn't Know Were Official State Foods of Illinois & Wisconsin
Wisconsin and Illinois' official state foods you probably didn't know about.
More From Rockford's New Country Q98.5