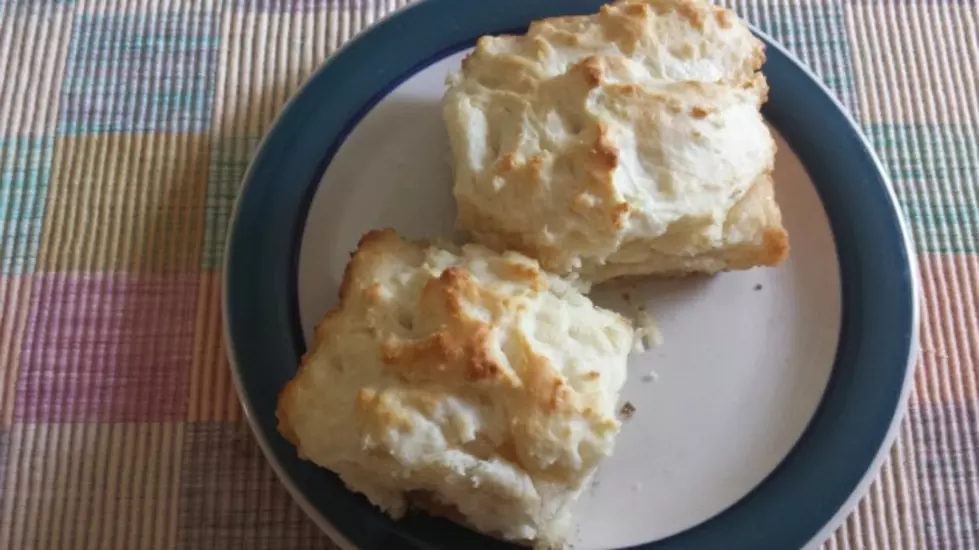 Tasty Fluffy 7Up Biscuits
Susan Tyler; Townsquaremedia
Fall days like these get me into a baking mood.  Yesterday, I had the perfect biscuit recipe to do just that.
These tasty, fluffy biscuits are made with 7Up and 3 other ingredients.
Hard to believe that just 4 ingredients can make a pan full of fluffy biscuits. As you can see in the photo, but they do!
INGREDIENTS:
4 cups Bisquick
1 cup sour cream
1 cup 7-up
1/2 cup melted butter
DIRECTIONS:
Mix Bisquick, sour cream and 7 up. Dough will be very soft - don't worry. Knead and fold dough until coated with your baking mix. Pat dough out and cut biscuits using a round biscuit / cookie cutter. Melt butter in bottom of cookie sheet pan or 9x13 casserole dish. Place biscuits on top of melted butter and bake @ 425 degrees for 12-15 minutes or until brown.
*Due to the dough being a slight tacky and sticky I had trouble trying to cut these with a round cookie cutter. I used a serving spoon and dropped them into the pan instead. They still turned out great.
These were so good. I served them with Chili that I had in the freezer for lunch yesterday!
Speaking of chili, this is the last week to sign up to be a cook at our Chili Shoot Out on Oct 4th. If you interested in the event and / or putting a chili cooking team together sign up today!
More From Rockford's New Country Q98.5