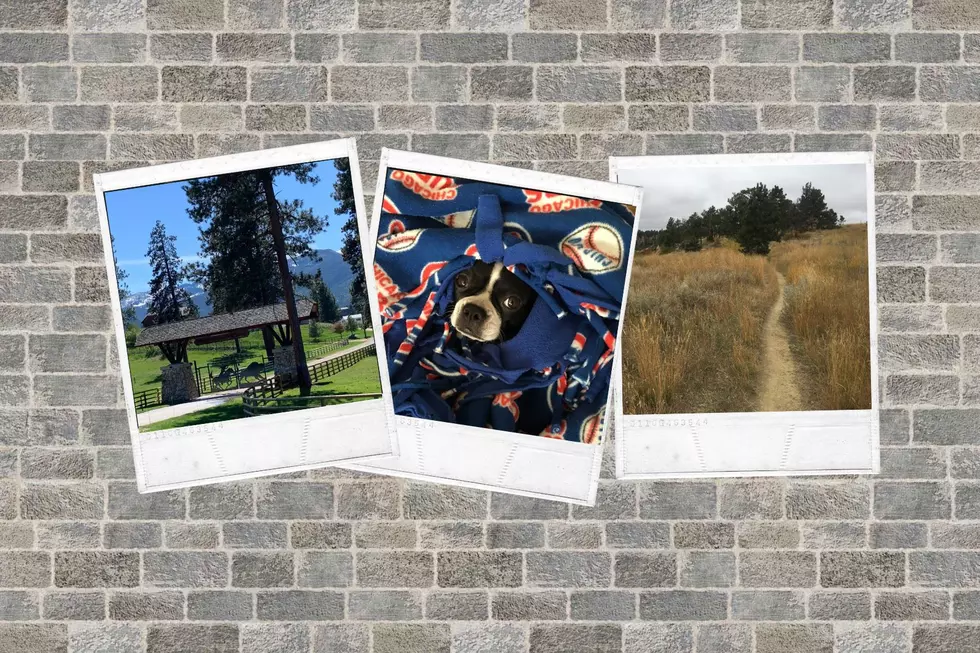 20 Things to Know About Rockford's New Radio Personality
Credit: Johnny Vincent, Townsquare Media, Canva
It's been way too long my friends, but it's good to be back in Rockford to spend the afternoons with you.
If we've never met, my name is Johnny Vincent and I will be keeping you company from 3-7 pm on weekday afternoons during the Ride Home on the legendary Q 98.5, Rockford's #1 for New Country.
We'll get to know many things about each other in the upcoming weeks, months, and years, but let's start with these 20 things about me, Johnny V.
I am a lifelong Chicago Cubs fan
Growing up in Terre Haute, Indiana, we got cable TV in 1984 and besides hours watching MTV, I was hooked on WGN and the Chicago Cubs during that magical season for the boys in blue.
That was also my first memory of the Cubbies breaking my heart when Leon Durham had a ground ball go right through his legs that ultimately led to Chicago losing the series. And then the Bartman ball. Suffered through all of those moments.
But in 2016, all that pain went away. At least for a little while. Now I'm ready for what's coming in 2023, especially being just a short drive away from the Friendly Confines.
12 years ago I lived in Loves Park
In 2010 I moved to Rockford and was the afternoon show host and Program Director for 101QFL before the station was purchased by the K-Love and Air1 radio network. The new company offered me a position in Milwaukee where I worked for several years.
From Milwaukee, I moved to Pittsburgh to work for K-Love before heading to Charleston, West Virginia, followed by a couple of years downstate in Springfield before heading west to Montana in 2018.
Wanted to be on the radio since I was 7 years old
When I was 7 years old we came home from Christmas Eve Midnight mass and found that someone had robbed our home. They stole every present under the tree and a bunch of belongings from our house.
There was one small package that was actually hidden back in the corner behind the tree, which turned out to be for me. It was a Donny and Marie Osmond wireless microphone that would connect to an AM radio and let me hear my voice coming from the speakers.
I set up a little radio studio in my mom and dad's walk-in closet and ran wires through the house with speakers so they could listen to my show.
When I was 5 years old, a gorilla tried to kidnap me
During a family trip to the Covered Bridge Festival in central Indiana when I was 5 years old, a family friend said they had an acquaintance nearby that owned a pet gorilla.
When we stopped by to feed it some peanuts, the gorilla was on a long chain attached to its leg. I was standing next to my mom but must have gotten too close to the animal because it grabbed me by the legs and dragged me away.
From the story she tells, my mom began screaming to the friend who was with us to get me back and he had to pull me out of the arms of the primate who must have thought I was one of her babies.
I have a Boston Terrier named Wrigley Grace
I mentioned earlier that I'm a lifelong, die-hard Chicago Cubs fan so it's no surprise that my dog's name is Wrigley Grace. My favorite ballpark, and my favorite Cubs first baseman.
Wrigley is my third Boston Terrier. My last one named Addison passed away earlier this year (January 2022) at the age of 10.
There's just something about this little snortin' and fartin' dog breed that I fell in love with.
I enjoy an Ice Cream treat almost every single day
Until I was 7 years old I had a dairy allergy that would give me a severe ear infection if I drank milk, so I had to eat my cereal with soy milk and only get sherbet at the ice cream shop.
So when that allergy ended, I went all in with the ice cream. And I'm just a fan of good old-fashioned Vanilla. And coffee-flavored ice cream. Peppermint stick is also at the top of my list during the holidays. Now that I think about it, a Cookies and Cream milkshake sounds good right about now. And my homemade ice cream recipe is one of the best.
As I said, I'm an iced cream aficionado.
Met Willie, Waylon, Kris Kristofferson, and Johnny Cash on the same night.
During a fundraiser that my dad was managing, I was able to spend private time with some of the biggest names in country music history.
Before a Highwaymen concert in Evansville, Indiana, I hung out with Willie Nelson, Waylon Jennings, Kris Kristofferson, and Johnny Cash. It wasn't until years later that I realized June Carter-Cash was also there standing next to my mom the entire time.
Used to be on a Breakdancing crew
In the early 1980's, a couple of kids from my neighborhood in Terre Haute, Indiana started a breakdancing crew called the "18th Street Breakers." We would use a big piece of cardboard from a refrigerator box as our dancing platform where we would do backspins, headspins, windmills, and lots of poppin' and lockin.'
Loved the Chicago Bears since "Sweetness" and the Superbowl Shuffle
"We're not here to start no trouble, we're just here to do the Superbowl Shuffle." I know every lyric by heart from that legendary 1985 Chicago Bears team that had me hooked on Sweetness, The Fridge, and McMahon's headband messages.
Enjoy a great local coffee shop
One of my favorite places to be on a brisk Saturday morning is a locally owned, cozy coffee shop. The national chains will do in a pinch, but there's nothing like finding a hidden gem of a cafe, tucked away in a neighborhood.
Have a favorite local coffee shop that you enjoy that is in or around the Rockford area? Let me know about it: johnny.vincent@townsquaremedia.com
Threw out the first pitch at a Rockford Riverhawks game
When I worked and lived in the Forest City back in 2010, the Rockford Riverhawks invited me to throw out the first pitch at one of their games. What I remember from that night was the Riverhawks announcer Andrew Belleson welcoming me to the field, and only a couple of years later, Andrew was hired as the P.A. announcer at Wrigley Field.
Grew up in Evansville watching 'A League of Their Own' being filmed
When I was a senior in high school in Evansville, Indiana, the movie "A League Of Their Own" came to town for filming. My grandmother was an extra in the world series scenes, my cousin was a "hand stand-in" for actor Geena Davis during a scene where it looks like she's milking a cow.
When there's a close-up of her hands milking a cow, those are not Geena's, but my 16-year-old cousin's hands.
"Your Dad married my parents"
My dad was a Catholic priest and taught at the same high school that I would end up attending. So some of my classmates would tell me that my dad married their parents back when he was a priest.
He left the priesthood, traveled around the world, and met my mom when they were both in their mid-30s.
My mom is the oldest of 17 siblings, but I'm an only child
She grew up the oldest of the 17 Adler family kids who grew up and worked on a dairy farm just north of Evansville, Indiana. When I go back to visit, I can see dozens of my aunts, uncles, and cousins who still live on Adler Road, named after my great-grandfather Theodore Adler.
Rode in a car with Bill Cosby for 30 minutes.
At the age of 16 during a fundraiser for local schools, I was given the opportunity to welcome Bill Cosby at the airport to ride with him and his manager to a performance. He landed on a private jet "Camille," named after Cosby's wife.
On the ride to the show, he talked to me the entire time asking questions about what I wanted to do as a career and who he needed to call to get me a job in radio.
Now looking back at that photo, you would've never predicted what direction Bill Cosby's life would take.
These are my favorite recreational activities
Finding a paved trail to take the dog for a walk, going for a ride on a mountain bike, and discovering a great hiking trail are some of my favorite way to exercise and get out into nature. Boat-in camping was also a fun adventure when I lived in Montana.
What are your favorite places to hike and mountain bike in the stateline area?
These are (currently) my favorite TV shows
Ted Lasso, The Office, and Breaking Bad top my list.  And while I won't admit it, I know way too much about the characters on 90 Day Fiance' and Married at First Sight.
I've been to the Yellowstone Dutton Ranch
For almost 5 years I've been living in Yellowstone County, Montana in the city of Billings. Life in Big Sky Country is nothing like the TV show, except for the scenery.
Even the setting for the Dutton Ranch isn't located in the actual spot of the ranch. On the show, the ranch is supposed to be located close to Bozeman in the Paradise Valley. But the real-life ranch used in the show is actually closer to Missoula and the town of Darby.
During a visit to that part of the state, I stopped by the front gates to snap a picture. But I didn't get too close in case Rip was nearby and had the need to take someone to the train station.
These are the 3 Best Concerts I've Attended
Garth Brooks at Roberts Stadium in Evansville, Indiana (1994),
Motley Crue at the Brown Theater in Louisville, Kentucky (1999)
MC Hammer at Roberts Stadium in Evansville, Indiana (1992)
This is my hidden talent
I'm a juggler.
If you need anything on your ride home, just send me a message using the Q 98.5 app.
LOOK: Baby names that are illegal around the world
Stacker
scoured hundreds of baby name databases and news releases to curate a list of baby names that are illegal somewhere in the world, along with explanations for why they're banned.
See How School Cafeteria Meals Have Changed Over the Past 100 Years
Using government and news reports,
Stacker
has traced the history of cafeteria meals from their inception to the present day, with data from news and government reports. Read on to see how various legal acts, food trends, and budget cuts have changed what kids are getting on their trays.
More From Rockford's New Country Q98.5