Patriotic Crafts You Can Make at Home for Under Twenty Dollars
Shannon Zimmerman, Townsquare Media
No one wants to work too hard in preparation for the day meant to honor American workers, so here's two super easy and inexpensive projects you can do to jazz up your Labor Day celebrations!
I was on a mission to make a few last minute Labor Day goodies, but I didn't want to spend a lot of money. So off I went to Hobby Lobby to see what sparked my creativity, and I came across the bandana section. Then I had a thought; Brett Michaels is headlining the Brews & BBQ event this Saturday at Settlers Park in Rockton, and he is famously known for wearing bandanas, so I was going to make projects in honor of him.
It cost me just under twenty dollars to get all the supplies for these two projects, and less than two hours to make both of them. I hope you have as much fun making them as I did. They are super easy to do, I swear! Let's get started...
Patriotic Bandana Wreath:
Bandana Flip Flops:
You only need a few supplies to make this super fun and easy flip flops.
Pair of Flip flops
Bandanas - I used the red and blue scraps I had left over from making the patriotic bandana wreath, and then added some strips of ribbon for an extra touch.
Scissors
Begin with cutting your bandanas into strips that are 6 inches long and about 1/2 to 1 inch wide. How wide you cut them is up to you, but it will take more of the thinner strips to fill the flip flop.
After you have cut your strips, begin tying them onto your flip flop straps using double knots on each one to avoid them from coming undone when wearing them.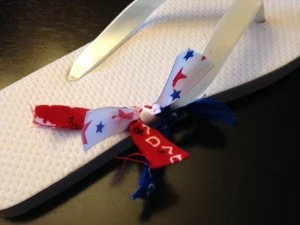 Continue until the straps are filled on both flip flops, and boom! You're all done, and they look super cute! Kids especially love these, so it is a good project to keep little hands busy and out of trouble!
Finally, what good are bandana crafts if you don't even know how to properly tie a bandana in the first place? Good thing we don't have to worry about that anymore, thanks to Q98.5's Susan Tyler...
Happy Labor Day, ya'll! I hope everyone has a very safe and happy holiday weekend!