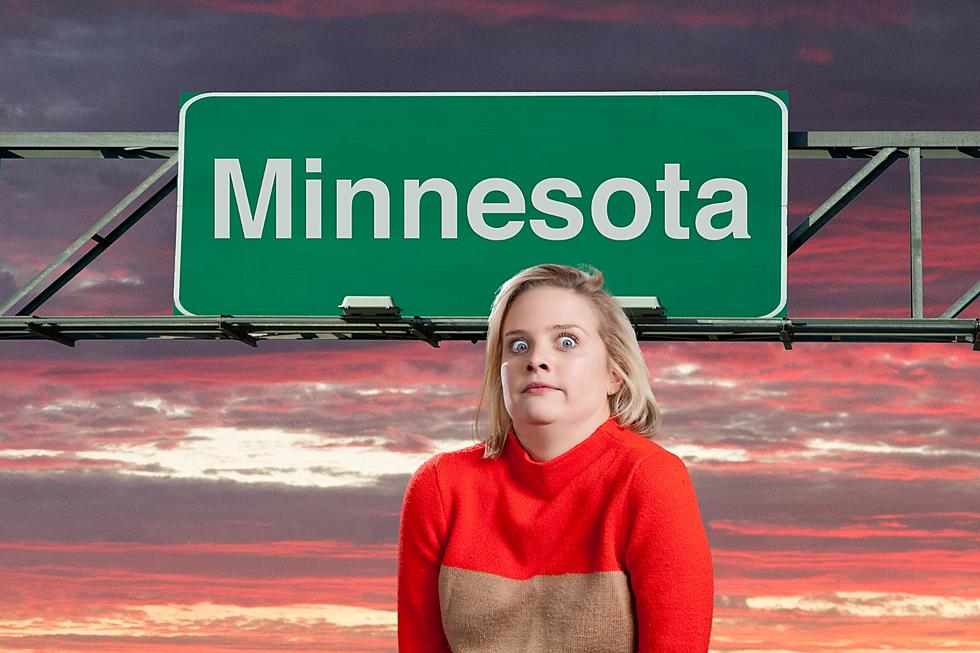 From Funky To Fantastic, Here Are Minnesota's Quirkiest Town Names
Canva
Some sound dirty, some are just pure humor gold; there are a whole lot of unique town names in Minnesota.
Here are some of Minnesota's quirkiest town names.
---
Wakemup
Maybe it's a sleepy town on the water? Wake-em-up, I have no idea if that's actually how it's pronounced, but I dig it. Wakemup is an unincorporated community in Saint Louis County in the Kabetogama State Forest.
---
Bush Landing
I couldn't find how Bush Landing got its name, but it's located way up North by the Mississippi headwaters.
---
Embarrass
Embarrass is notable as the coldest place in Minnesota. Embarrass is an unincorporated community in Saint Louis County. According to CBS, Embarrass was named after the Embarrass River by French trappers. They called it the Riviere d'Embarras (River of Obstacles) because pieces of wood made it hard to navigate.
---
Erhard
According to Wikipedia, Erhard is a city in Otter Tail County with a population of 132. Erhard was platted in 1882, and named for Alexander E. Erhard, an early settler.
---
Fertile
Fertile, home of the Polk County Fair since 1900, is home to 804 people and is located in Polk County.
---
Climax
Climax was founded in 1896, was named after a chewing tobacco company, and has a population of 243. 
---
Potsdam
An unincorporated town not far from Rochester on Highway 247. Don't blink when you're driving through or you might miss it. According to Wikipedia, it was named after Potsdam, Germany.
---
Frazee
Frazee is a city in Becker County and is known for being the home of "Big Tom", the world's largest turkey. The statue, named "Big Tom", was completed in 1986 and stands 22 feet tall. Click here to see a picture and read more about Big Tom.
---
Goldenrod
There is very little info about Goldenrod online. All they say is it's located in Becker County.
---
Kiester
There are 501 people in Minnesota's Kiester... Sorry, couldn't help myself. Kiester is named after Jacob Armel Kiester, a state senator, county attorney, and judge.
---
Flom
According to Google, Flom Township was organized in 1881, and named for Erik Flom, an early settler. It has a population of just 226.
Nimrod - The population was 69 at the 2010 census, making it one of the smallest incorporated towns in Minnesota. According to WCCO, Nimrod is a biblical reference. He was known as a "mighty hunter before the Lord."
Underwood - Underwood is a city in Otter Tail County with a population of 356. According to the Otter Tail County website, Underwood was named after Adoniram Judson Underwood, editor of the Weekly Journal at Fergus Falls, someone known personally by nearly every settler at that time, and a man of vast knowledge in the history of Otter Tail County, MN.
Whipholt - Whipholt is an unincorporated community in Cass County along Leech Lake with a whopping 99 people. An article about Whipholt says it was named after the successful logging tycoon Thomas B. Walker, hoping to drive a new kind of business to the area.
Bombay - Bombay is an unincorporated community in Goodhue County. The total City Population of Bombay is about 3,178.
10 Weird Minnesota Town Names All Within 75 Minutes of Rochester
All states have their fair share of odd town names, but I feel like Minnesota has more than most. Here are 10 weird Minnesota town names that are all in southeast Minnesota and within 75 minutes of Rochester, Minnesota.
Gallery Credit: Carly Ross
More From Rockford's New Country Q98.5