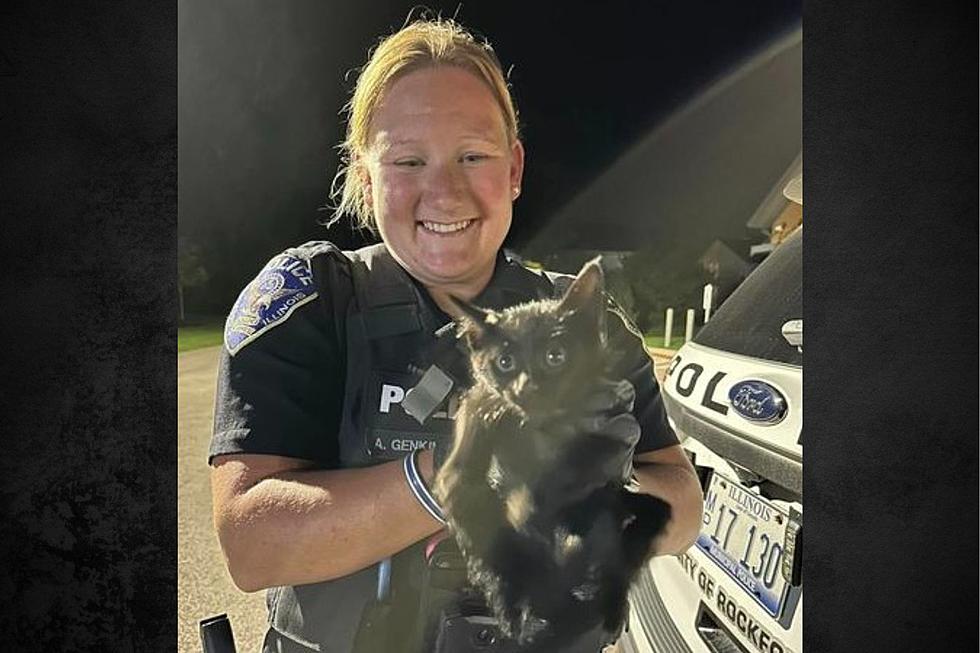 One Illinois Cop Makes a Unique Rescue and Ends Up With A New Best Friend
Rockford Illinois Police Department via Facebook, Canva
What do a police officer, a kitten, and a coyote have in common? One unusual rescue in Rockford, Illinois that led to a very happy ending.
To Serve and Protect
I have a soft spot in my heart for police officers and firefighters. Many of my close friends and family members have devoted their careers, and lives, to those services, and it takes a very special person to do that.
The things police and firefighters see and experience every day on the job are things that most people (including me) would run away from or have nightmares about, but not these brave men and women. When they see someone or something in trouble, they rush right in to help, and that is exactly what two Rockford Police Officers did when they saw an animal in danger recently.
A Big Rescue Suprise
On Friday, September 22, 2023, the Rockford Police Department shared a heartwarming story about two officers who thought they were rescuing a dog running across E State Street but then discovered the dog was actually a coyote who had snagged a tiny kitten for lunch!
That's one very lucky, (and cute), kitty!
I wonder if Officer Genkinger was looking to adopt a kitten, or if fate just found a slightly terrifying way to get them together?
The Perfect Name
Choosing a name for a new fur baby is important business, and I love choosing names that have special personal meanings for my pets. Someone suggested the name "Wile. E. Coyote" for the kitten in the comment section of RPD's post, and apparently "Wiley" is a name Office Genkinger is seriously considering. Can you think of a more perfect name than that?!?
I hope you and Wiley have a very long, happy, and coyote-free life together, Officer Genkinger! Thank you for your service and for saving that sweet kitty!
The Most Bizarre Items Ever Stolen From Illinois Residents
My mom once told me that "people will steal anything that's not nailed down." Times certainly have changed since then. The thieves now have nail removers.
13 Stupid Illinois Laws
More From Rockford's New Country Q98.5