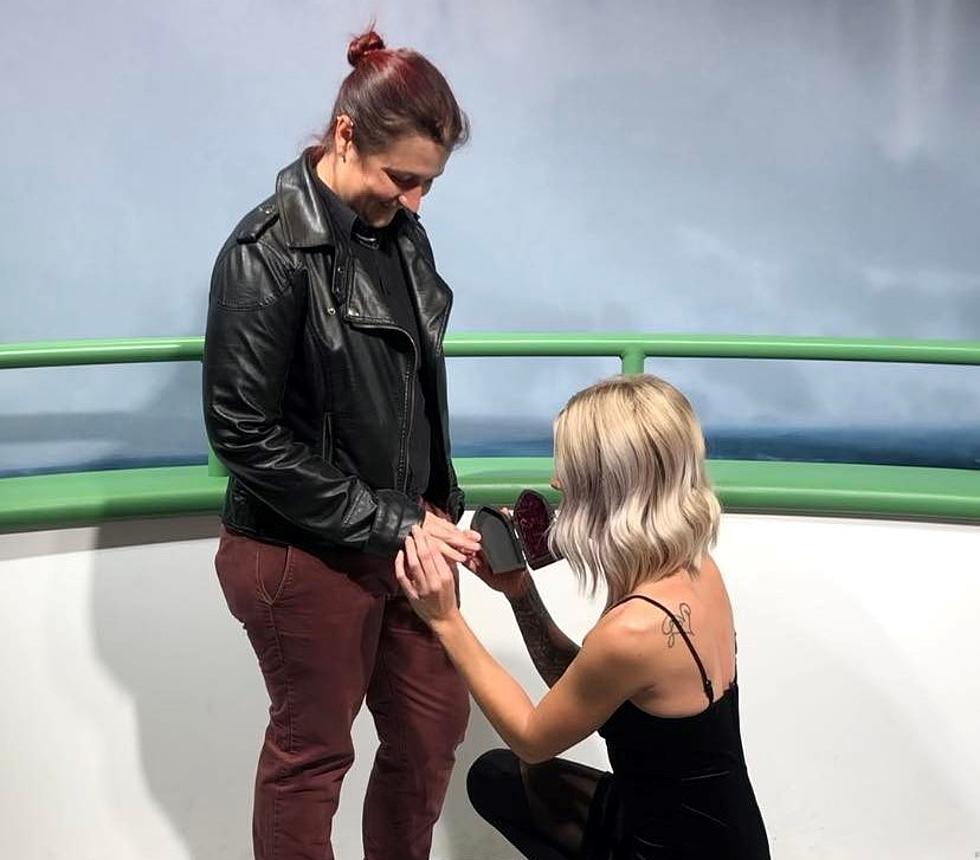 Illinois Brides-to-be Get Engaged at The Office Experience in Chicago
Sabrena Ferguson
Love is in the air at The Office Experience in Chicago, at least it is for Ashley and Sabrena who recently got *engaged* at the exhibit, here's there story. 
You gotta love a good love story, and you gotta love it even more when it ends with a proposal at a Pop Culture pop-up experience.
I could tell you Sabrena and Ashely's story, but wouldn't you rather hear it from Sabrena?
I thought so, too.... here's what she had to say about her love story and why the Office was the perfect place to put a ring on it:
Ashley and I met on our roller derby team- Rockford Rage. As we started dating, we quickly found out that we both loved the show The Office. We started watching it together regularly and knew how alike our love story was to Jim & Pam's. (But instead of falling in love at work, we fell in love at practice!)

So we dressed up as Pam & Jim for Halloween in 2018, and she asked me to officially be her girlfriend with a comic she made. (Just like Pam made Jim a comic in the show.)
 

 

Three years later we decided to celebrate our anniversary in Chicago, when I planned to propose. We saw that there was going to be an Office Experience and knew we had to go! So I knew it was meant to be that I proposed there.

I reached out to the management of the operation and found out there was a Jim and Pam room, perfect.

 
We went to take a photo at the Niagara Falls backdrop and I pulled out the ring and asked her to marry me, and she of course said yes
Congratulations Sabrena and Ashley! There better be signature Office cocktails at your wedding!
The Office Experience is open now in Chicago, you can get tickets on their website. 
How long it takes to binge 'The Office,' 'Game of Thrones,' and 50 other famous TV shows
Did You Know These 25 Famous Musicians And Bands Were From Illinois?
Did You Know These 25 Famous Musicians And Bands Were From Illinois?
More From Rockford's New Country Q98.5