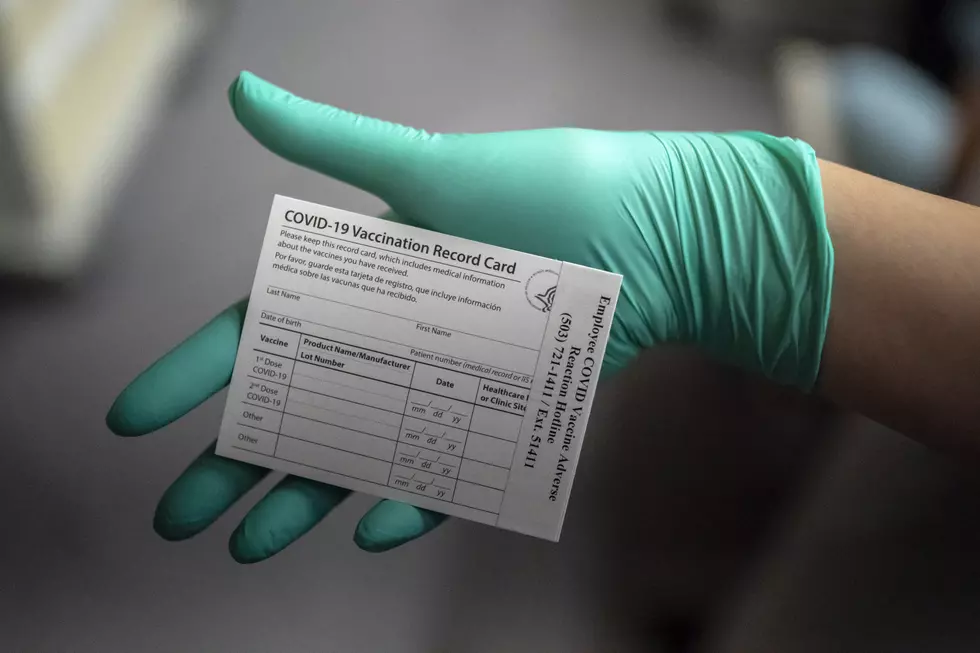 ATTENTION! Don't Post Pictures of Your Covid Vaccine Card
Getty Images
Law enforcement and the Better Business Bureau are warning against sharing photos of your CDC Covid vaccine card.
You've just gotten the Covid-19 vaccine. Congratulations. That is something of which to be very proud. The inescapable truth is that the only way to get to fully restoring life to what it was like before the pandemic began, you either have to be infected, or get the vaccine. Herd immunity is the goal. Experts say herd immunity requires 70% of the population to have either be infected or vaccinated.
When you get vaccinated you get a card that will contain your information. Some of the spaces on that card will contain some self-identifying information. You may think you've blocked all the information, but it still may make you vulnerable to an attack on your identity. The risk is too great. Online criminals don't need us to make their jobs easier.
If you really want something to share on your social media accounts, share the sticker you'll get with the CDC vaccine card, according to Channel3000.com. Also, most social media platforms have special frames and other graphics to share that you got the Covid-19 vaccine.
---
Regular Steve Shannon Show guest, Dr. Bill Renk (SwedishAmerican), was on the phone to update us on the day before he gets his second covid vaccine shot. Dr. Renk hit on topics that included:
His one and only vaccination side-effect thus far
What age group tends to have more side-efects
Warning for those who have a history of severe allergic reactions
The biggest component of the COVID-19 vaccine has been around since the early 2000s
and
surprising distance we still have to travel to get to herd immunity
Steve Shannon is host of The Steve Shannon Show on 97ZOK. On the air weekday mornings from 6 to 10 a.m. and a special 'Rewind' show, featuring favorite moments from previous shows, on Saturday mornings from 5 to 7 a.m.. Follow him on Twitter, Instagram, and like his page on Facebook.
More From Rockford's New Country Q98.5