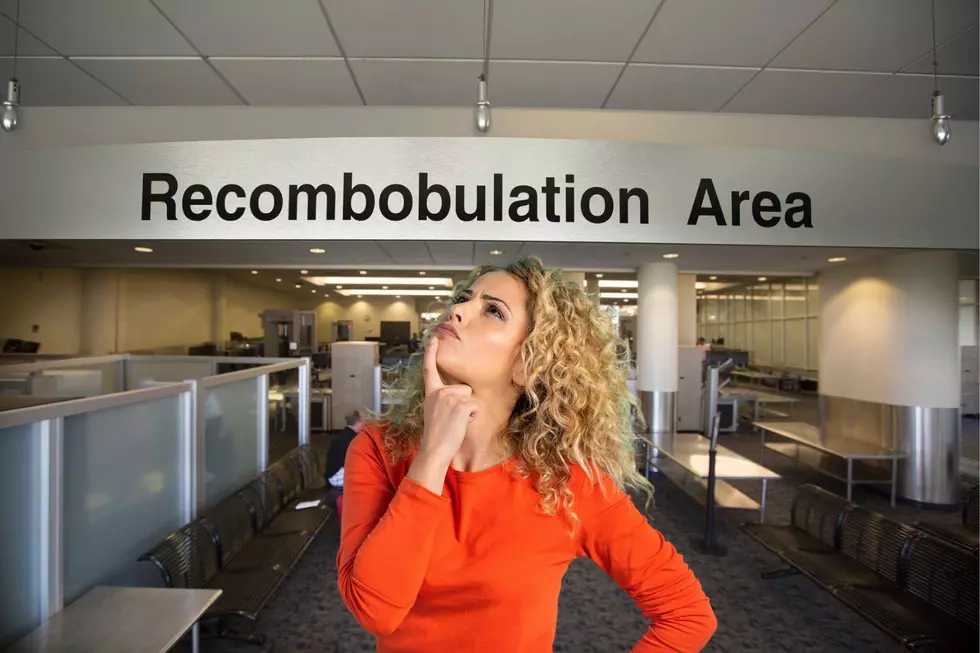 Do You Know What the 'Recombobulation Area' Is For At One Wisconsin Airport?
MKE - Milwaukee Mitchell International Airport via Facebook, Canva
Milwaukee Mitchell International Airport in Wisconsin is the only airport in the World to feature "Recombobulation" Areas, but what the heck are they for?!?
What Does Recombobulation Mean?
I have flown out of Milwaukee Mitchell International Airport several times in my life, but I have never noticed these puzzling signs in the concourses before...
What the heck does recombobulation mean, and is it even a real word?!?
As it turns out "recombobulation" is a real word, or at least "recombobulate" is, according to Wiktionary.org. Recombobulate means "to cause to think clearly again; to reorient; to put back into working order."
When you put that definition together with the "gather your belongings" part of Milwaukee Mitchell International Airport's post you will now understand that the Recombobulation Area is the place where you put your clothes and shoes back on and get your stuff together after going through TSA security checkpoints.
(Is your mind a little blown too? I guess it would be tacky to simply call it the "Put Your S*%# Back Together Area")
Benefits of a Recombobulation Area
I am far from an experienced world traveler, but I do know that the first few minutes after making it through a TSA checkpoint are hectic and a bit frustrating. Not only do you feel half naked and exposed, but now you have to collect your crap as quickly as possible so you don't hold the lines up and somehow get redressed in the midst of a large crowd all while you're hoping you didn't forget anything. It's not fun, can be highly stressful, and is exactly why the Recombobulation Area was created.
OnMilwaukee reports;
Mitchell airport works toward providing a stress-free environment for guests in numerous ways.
Not only does  Mitchell Airport now feature 3 different Recombobulation Areas, but they also have lactation stations for breastfeeding mothers, several great restaurants/bars, and even several play areas for children throughout the Airport.
Where Did the Recombobulation Name Come From?
Now that we know what a Recombobulation Area is for, you're probably wondering where the wacky name came from.
Barry Bateman, the former director of Milwaukee Mitchell International Airport "made up the word and suggested the signage in order to add some comic relief to what can be a tense aspect of air travel" according to OnMilwaukee.
So, not only does the Recombobulation Area offer a more relaxing way to get out of your discombobulated funk, but it provides some much-needed smiles for stressed-out travelers too.
Job well done, Milwaukee. I can't wait to recombobulated with you very soon.
You Can't Visit Wisconsin Without Trying These 5 Very Iconic Foods
These aren't just delicious foods, these are the foods that scream the great state of Wisconsin. Bring your appetite.
25 Places You Need to See Next Time You're In Wisconsin
More From Rockford's New Country Q98.5