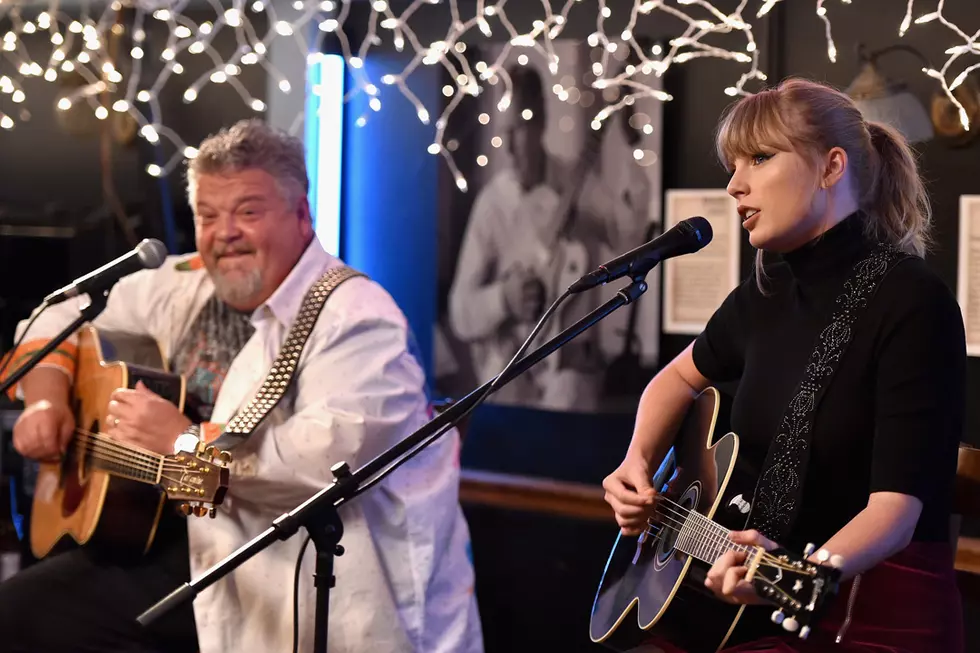 Taylor Swift Makes Surprise Appearance at Nashville's Bluebird Cafe [Watch]
John Shearer, Getty Images
Country-turned-pop-superstar Taylor Swift surprised fans at Nashville's Bluebird Cafe Saturday night (March 31), appearing unannounced to perform a few songs for the crowd.
According to the Tennessean, Swift was brought onstage by the night's main billing, Craig Wiseman. She received a standing ovation, and played her songs "Shake it Off," Little Big Town's "Better Man" (which she wrote and won a CMA Award for), and "Love Story" — a song she explained she "almost" wrote with veteran songwriter Wiseman. He ended up passing on the song, not quite feeling it, but she couldn't get it out of her head.
"I couldn't stop thinking about the idea," Swift told the audience. "I thought there was something to it. I really liked it."
Indeed there was, and it opened her path to a career of confessional, heartfelt tunes that would eventually take her into pop stardom; however, Swift made sure to tell the crowd that she hasn't forgotten her roots.
"I wanted to say a big thank you to the Bluebird Cafe," she said. "I think any songwriter in town would echo my sentiments and say that this is kind of the only place where this exists — this particular place where you get to come and hear the writer's take on the songs they've put out into the world."
Swift's performance was filmed for a documentary in honor of Bluebird Cafe's 35th anniversary. The Bluebird Cafe holds special significance for the singer, as Big Machine Label Group's Scott Borchetta saw Swift play there when she was just an 8th grader, and offered her a publishing deal.
Swift is currently in the midst of preparing for her Reputation Tour, which will launch in May.
Country's Most Powerful Women? Taylor Swift Made the List!
Meet ToC RISER Devin Dawson
More From Rockford's New Country Q98.5