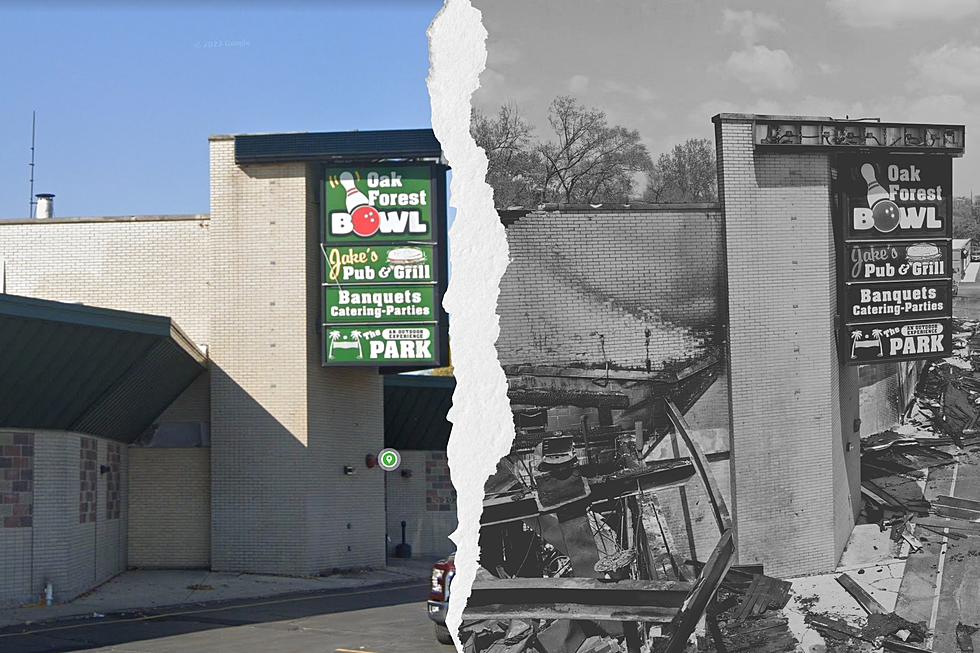 Catastrophic Fire Destroys Local Bowling Alley in Illinois
Google Street View, Ed Higgins- Above All Drone Service LLC
In the early hours of Saturday morning, tragedy struck the tight-knit community of Oak Forest as a devastating fire engulfed their beloved Oak Forest Bowl.
The suburban bowling alley, located at 15240 S. Cicero Ave., is now burnt remains and ashes, leaving its owner, patrons, and the community in a state of shock and grief. As news of the fire spread, questions arise about what led to this heart-wrenching event.
What happened to Oak Forest Bowl?
At around 2:30 a.m., Oak Forest fire crews received an alarming call and rushed to the scene. A dozen neighboring fire departments came together to combat the inferno. However, despite their valiant efforts, the fire had taken its toll, leaving the building in ruins.
The most heartbreaking news was that the structure was a total loss, according to Oak Forest Deputy Fire Chief Steve Griffin.
Thankfully, there were no reported injuries as the fire broke out when the establishment was empty. Firefighters returned later in the evening to tackle lingering hot spots, ensuring the safety of the area. However, the emotional toll on the owners and their families cannot be underestimated.
How did the community react?
The devastating impact of the fire is evident in the heartfelt sentiments shared by the community. The owner of Oak Forest Bowl, along with his family, watched their cherished establishment destroyed by flames.
Their niece, Laura Canulli, explained to Chicago's ABC 7 the profound sadness and the tears shared by the owners. The grief is palpable, and their hope lies in the support of the community rallying behind them.
In the face of such devastation, the community has come together to support the owners of Oak Forest Bowl. A GoFundMe page has been set up to aid in their recovery efforts. While the building may be gone, the memories forged within its walls will forever endure.
The bittersweet truth is the memories can never be taken away but the future of Oak Forest Bowl may have been extinguished.
Check out more photos of the devistating fire:
Breathtaking Photos of Massive Chemtool Fire from Rockton, Illinois Residents
On Monday, around 7 a.m., a Rockton chemical plant burst into flames. These photos from those that live nearby will make you feel like you were right there.
LOOK: 25 must-visit hidden gems from across the US
From secret gardens to underground caves,
Stacker
compiled a list of 25 must-visit hidden gems from across the United States using travel guides, news articles, and company websites.
More From Rockford's New Country Q98.5