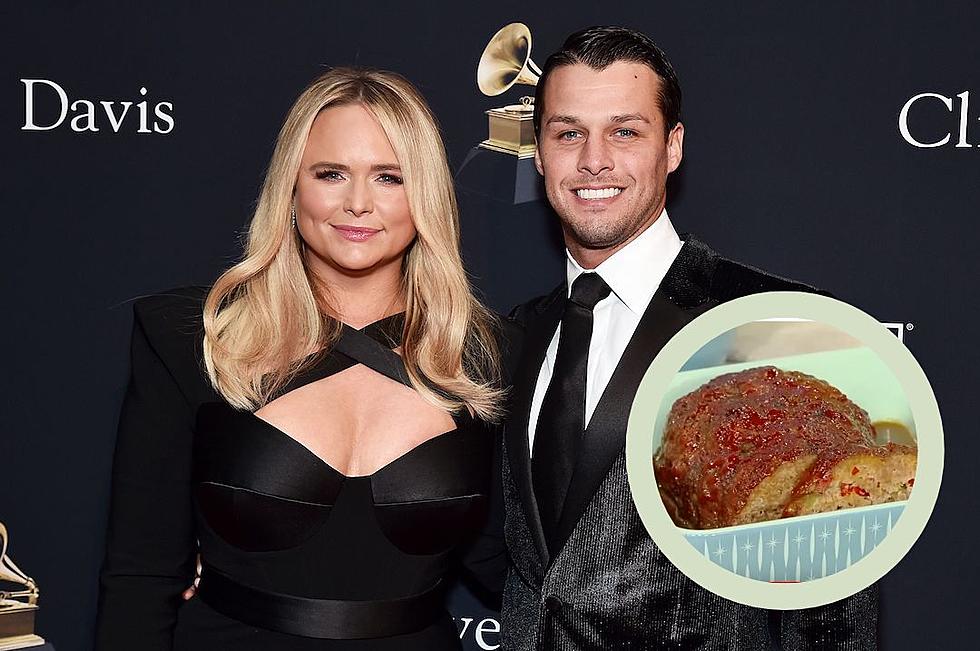 Miranda Lambert Might Just Owe Her Marriage to Her Mom's Meatloaf
Alberto E. Rodriguez, Getty Images/YouTube
Miranda Lambert's new cookbook, Y'all Eat Yet? Welcome to the Pretty B*tchin' Kitchen, is full of personal recipes paired with family stories and memories — and the singer says there's one dish that just might have sealed the deal between her and her husband, Brendan McLoughlin.
That's her mom Beverly's famous meatloaf recipe, which Lambert says is a staple for women in the family hoping to show their love for a prospective romantic mate. The loaf was a dish she made early on when she was dating McLoughlin, she reveals in an interview with Access Hollywood. 
"When I first met Brendan's family, it's one of the first things I made for them," Lambert explains. The couple would go on to get married in January 2019.
In an appearance on the Tamron Hall Show, Lambert expands on the backstory behind the famous meatloaf.
"We call it, 'The Loaf gets the ring,' because there's so many people in our circle that bring somebody home to either mom's house or call her for the meatloaf recipe, and we're like, 'Ooh, it's getting serious,'" she says.
"If you make the loaf for your significant other, you might get engaged," Lambert adds. "It's a thing. It's engagement meatloaf."
From the outside, Lambert and McLoughlin appear to come from entirely different worlds — she's a Texas native who's one of country music's best-loved modern-day traditional stalwarts, while he's a former New York City police officer. Lambert acknowledges that McLoughlin experienced a little bit of food-related cultural shock when he first became a part of her family.
"He came to my mom's. He's like, 'Why does everyone fry everything?'" the singer jokes, adding, "Because it's good!"
But all jokes aside, she says, they've got more in common than meets the eye. "My dad was a police officer. [There are] cops and firemen in my family," she continues. "So it kind of felt like our worlds meshed really naturally."
"He's really fun and down for anything. He has a great personality. So he was ready for the ride," she says, revealing that McLoughlin has also struck up a friendship with her Aunt Denise — aka Niecy — whose gumbo recipe features in Y'all Eat Yet.
"Her family's from Louisiana. So, Niecy and Brendan have, like, this bond," she says. "... He's a New Yorker, he cooks Italian, but he has mastered the Southern gumbo."
Pictures: Miranda Lambert + Brendan McLoughlin Walk the 2023 Grammys Red Carpet
Also included: two photos of Lambert and Mcloughlin from Saturday night's (Feb. 4) pre-Grammy gala.
PICTURES: See Inside Miranda Lambert's Luxurious Nashville Mansion
Miranda Lambert's former mansion in an exclusive part of Nashville is currently up for sale, and pictures reveal a stunning luxury home with gorgeous views.
The 5-bedroom, 5.5-bathroom, 6,261-square-foot house in the Forest Hills section of Music City is currently on the market for $3.98 million.
More From Rockford's New Country Q98.5