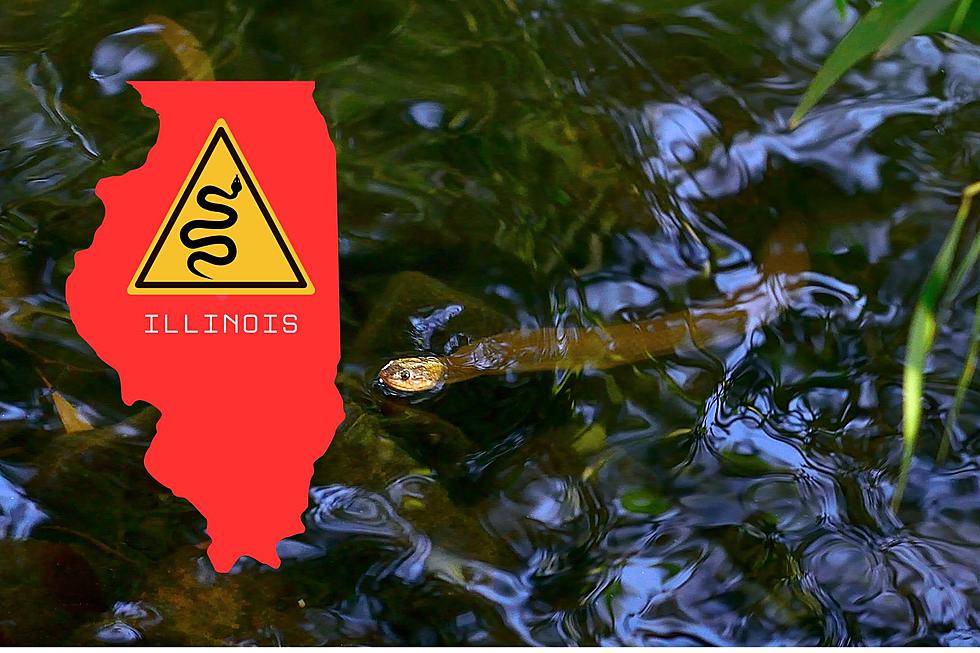 3 Illinois Lakes You May Not Want to Swim In Unless You Love Snakes
Canva
Lakes are full of creatures, we all know that, but did you know that many lakes in Illinois are home to slithery snakes too?
Lake Fun in Illinois
There are few things I love more in life than spending a warm summer day on a lake. It doesn't matter if I'm chilling on a boat or lounging on a water raft, the lake is definitely my happy place.
The only things that can sour my lake life vibes super fast are getting my feet stuck in seaweed, getting eaten alive by mosquitos, and seeing a snake. I HATE SNAKES, and unfortunately, several lakes in Illinois have a real snake problem.
Most Snake-Infested Lakes in Illinois
I really wish I could tell you that the nastiest snake that lives in Illinois is a Garter snake, but we all know that is 100 percent not true. Over 30 different kinds of snakes (unfortunately) call Illinois home, but lucky for us, only 4 of them are venomous.
I also wish I could tell you that snakes only live deep in the woods of Illinois, but again, we all know that's not true either. Snakes live in yards, trees, forests, fields, and of course, water.
Here are the 3 most snake-infested lakes in Illinois according to A-Z Animals, (consider yourself warned);
Lake Michigan - The number of total snakes in Lake Michigan might not be considered massive in comparison to the size of the lake, BUT the number of different snake species certainly is. While many kinds of snakes live in and near Lake Michigan, the Eastern Massasauga Rattlesnake (venomous) and Fox snake (non-venomous) are the most common violators.
Rend Lake - This lake is located in Southern Illinois near Benton and is actually a man-made reservoir that is surrounded by forest and wetlands, so a LOT of snakes call this place home. The lake may be a great place to do fishing, boating or swimming, but just keep a close eye out before something slithers between your toes.
Carlyle Lake - This lake is also located in Southern Illinois, primarily in Clinton County. It too is a man-made reservoir, but it is much larger than Rend Lake. Carlyle Lake may be a great place for camping, fishing, and other water-related fun, but just be warned the Eastern Massasauga Rattlesnake likes to live in these waters( several other species of snakes do too. You can find a little comfort in knowing that although Massasaugas are venomous, they are quite shy, and don't typically mess with humans. Just keep your eyes peeled just in case...
Now that I have completely grossed myself out with all this snake talk, here are some fun Illinois lake things that will (hopefully) keep you far away from anything that slithers and swims...
Marvelous Lake VIlla Mansion for $100 Per Person
Lake Bluff Illinois Mansion Filled and Surrounded by Unbelievable Lake Michigan Luxury
Sensational is probably the best word to describe this home and its absolutely breathtaking views of Lake Michigan from every single room and that pool.
More From Rockford's New Country Q98.5