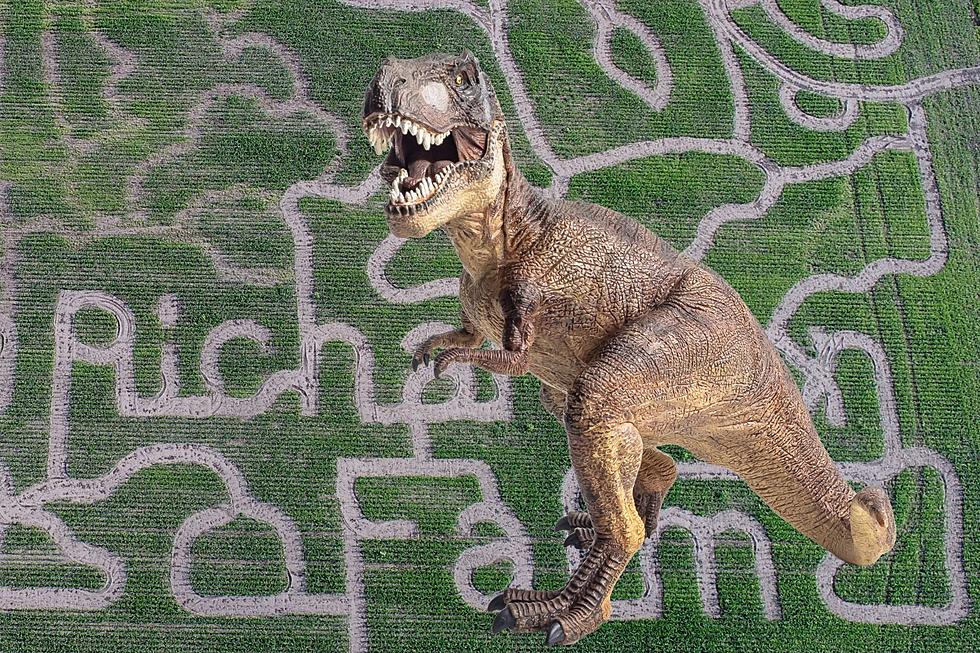 Illinois Fall Farm Favorite Reveals Massive Jurassic Corn Maze Design for 2023
Richardson Adventure Farm via Facebook, Canva
Richardson Adventure Farm in Spring Grove, Illinois prides itself on having the "World's Largest Corn Maze" each Fall, and this year T-Rex is taking center stage.
Fall Favorites in Illinois
When it comes to seasons, I love Fall most of all. Not only is Illinois BEAUTIFUL in the fall, but there are SO many fun things to do, buy, and eat!
Visiting Illinois orchards and pumpkin patches is a must-do each fall, but if you really want to take your fall fun to a whole new level, you have to try and make it through the "World's Largest Corn Maze" at Richardson Adventure Farm in Spring Grove, Illinois!
Fall Traditions at Richardson Adventure Farm
Richardson Farm has been a family business for 6 generations and offers several featured attractions throughout the year including a Tulip Festival each Spring, a Christmas Tree Farm during the holiday season, and its real claim to fame; the 28-acre corn maze and family-fun attractions they host every Fall.
Each year, Richardson Farm's "World's Largest" Corn Maze features a new design that is inspired by a big anniversary of something important. This year the 30th anniversary of the release of the 'Jurassic Park' movie is being honored in rows of spectacular corn...
Isn't that awesome?!?
Everything You Need to Know About Richardson Adventure Farm's Corn Maze
If you've never done a massive corn maze before, don't worry! Richardson Farm's corn maze may cover 28 acres of corn, but it is actually broken down into 4 smaller mazes that each have its own path in and out of.
The entire maze features many checkpoints and games that every age and skill level will enjoy There are also three bridges dispersed throughout the maze that give you an aerial view of your location in the maze in case you get lost.
When does the Richardson Adventure Corn Maze Open?
Richardson Adventure Farm will kick off its fall season on Saturday, September 9, 2023, and will then be open Thursdays through Sundays through October 29. (See specific hours and special dates here).
Here's even more fun you need to soak up and devour in Illinois and Wisconsin this Fall...
5 Perfect for Fall Apple Orchards in Northern Illinois to Visit
Even the biggest spring and summer lovers have a deep appreciation for a trip to an apple orchard. We're lucky to have so many this close to us.
Eight Wisconsin Hikes That Will Immerse You In the Beauty of Fall
Wisconsin Home Named Among Best Airbnbs to See Fall Foliage in America
More From Rockford's New Country Q98.5