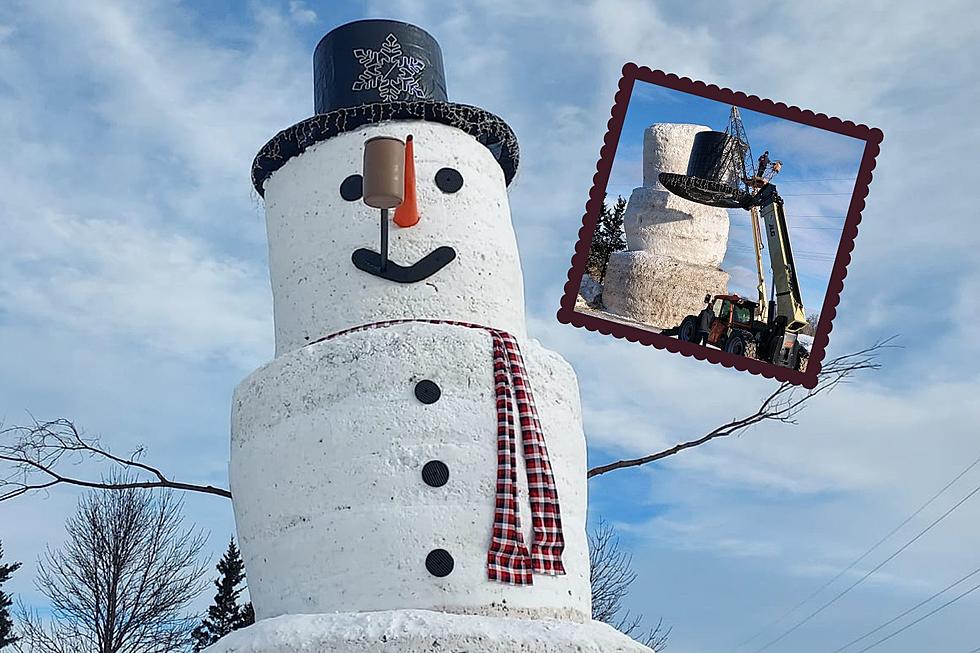 Did You Know A Giant Snowman Rules Over One Wisconsin Town Every Winter?
Jeffrey the Snowman via Facebook, Canva
Every winter the community of Milltown, Wisconsin teams up to create a MASSIVE snowman to greet visitors and make them smile.
Say hello to Jeffrey the Snowman who lives in Milltown, Wisconsin.
Sure, Jeffrey looks cute and welcoming, but that isn't what makes him so special. How he is created every year is.
The Creation of Jeffrey the Snowman
The original Jeffrey the Snowman was built in 2019 by Carlson Construction in an effort to win a contest in Milltown, Wisconsin according to cbsnews.com. In 2019 he stood only 19 feet tall, and every year since the goal had been to make him taller and more impressive. The second year Jeffrey stood 32 feet tall, the third year he was 44 feet tall, and this winter Jeffrey is a whopping 58 feet tall!
So how exactly does one make a massive snowman like this? It takes a lot of community help, a PVC pipe, trees for arms, and some heavy equipment.
Here's a fun video I found on YouTube...
The Heartwarming Part About Jeffrey the Snowman
If the community of Milltown, Wisconsin rallying together to create Jeffrey every winter isn't heartwarming enough for you, maybe the inspiration for his name will be. Carlson Construction's founder, Craig Carlson, told cbsnews.com;
We lost my brother six years ago and his name was Jeff, so we did it in memory of him," Craig said. "He'd like it, so it's been a lot of fun.
To see Jeffrey the Snowman in person just drive by Carlson Construction located at 215 Eider St. in Milltown, Wisconsin, but sadly, you will now have to put that on next winter's to-do list because Jeffrey's 2022 reign is nearly over, (and he's now naked)...
We can't wait to see how much you grow next winter, Jeffrey!
10 of the Best Road Trips to Take When You Need to Escape Illinois This Winter
10 Roadside Stops in Wisconsin You Must See This Summer
More From Rockford's New Country Q98.5