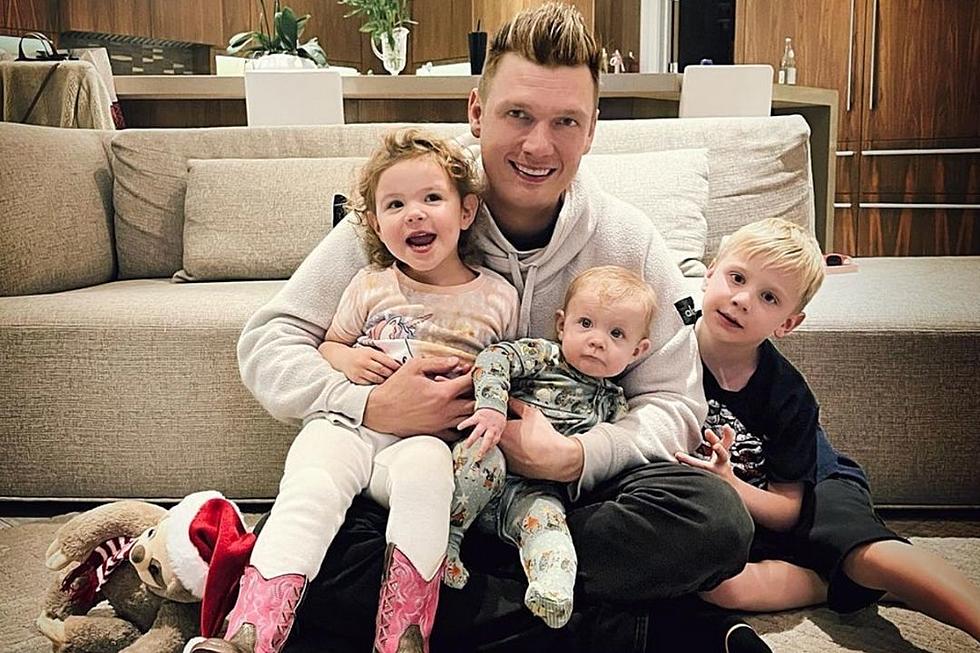 Backstreet Boy Nick Carter's 'Easy' Music Video Is a Time Capsule of His Family: 'I Started Crying'
Nick Carter
It's a family affair when it comes to Backstreet Boys member Nick Carter's new music video. The pop icon crosses over again into country with his newest song, "Easy," featuring Jimmie Allen. The song follows his group's hit pop-country collaboration with Florida Georgia Line, "God, Your Mama, and Me."
"Easy" is a song that Carter penned with his wife, Lauren Kitt, and their three children on his heart.
"It's something that I've always wanted to do, but it just needed to be the right story," Carter shares in an interview with Taste of Country.
"Easy" honors where the singer is in his life right now, soaking up the little moments with his family. Those are moments he wants to focus on, cherishing knowing that his kids will only be this young for so long.
Once he finished the song, the music video fell into place naturally. Shot in the desert of Carter's home state of Nevada, the video finds him and Allen singing as two cars circle dust clouds around them.
"It was a nightmare cleaning my cars, is all I'm going to say," Carter jokes.
Carter wanted the video to feel natural, he says. Allen's wife Alexis and oldest daughter Naomi also appear, enjoying time outdoors with Carter's wife Lauren and their three children. It's full-on desert camping trip complete with RVs, smores and dirt bikes.
"The great thing about the desert is you can see everywhere they are," Carter says with a laugh as he recalls filming with both artist's little ones. "They were running around, eating smores."
Continuing to make the project a family affair, the singer waited to see the final product as a family.
"All the kids were in the bed in the morning," he says. "Everyone was just getting up, and I was like, 'Guys, I want to put something on for you.'"
As he watched, the singer was overcome with emotion he didn't know he would experience, understanding the bigger picture behind the video and song.
"When I watched it, I got emotional and started crying…I had to walk away," he recalls. "Until you actually see it in real time on a big screen, it didn't hit me."
Ironically, both singers were fans of each other before jumping on board the project.
"I started falling in love with Jimmie's music as a fan," Carter shares.
The singer's producer knew Allen and was able to connect the two, which led to Allen co-writing the second verse of "Easy."
Both musically talented, they bonded beyond music, an organic pairing.
"We just connected from a music standpoint, artistic standpoint…we are very similar in a lot of ways," Carter says.
"What I've learned about Jimmie is that he's one of the most down to earth people that I've ever met," he adds. "I think that's what makes him lovable, likable, because obviously he's incredibly talented."
With both singers hitting the road for tours, Carter says that he and Allen plan to meet up with their families when they can.
"We're working out little festivals and things we can do together," he shares. "The kids will definitely get back together then."
After two years away, the Backstreet Boys are relaunching their DNA World Tour on Friday (April 8) in Las Vegas. Carter is excited to be performing again, and after the past few years working through a global pandemic, his focus on his "why" has shifted.
"Entertainment is so needed —everyone is hungry for entertainment," he expresses. "Being isolated for so long, people want that. I recognize that — we recognize that, so there's a whole new meaning that goes into being an entertainer and performer."
Carter has been bringing fans along during the pre-tour preparation, posting several choreography practices.
He is nothing but enthusiastic about getting to perform again.
"Taking the hiatus and coming back out, we just know this is the best version of the Backstreet Boys that we've had in a very long time," he states.
See the Most Played Country Song from the Year You Were Born
Who had the most played country song during the year you were born? This list is a fascinating time capsule of prevalent trends from every decade in American history. Scroll through to find your birth year and then click to listen. Some of these songs have been lost through the years, many of them for good reason!
More From Rockford's New Country Q98.5