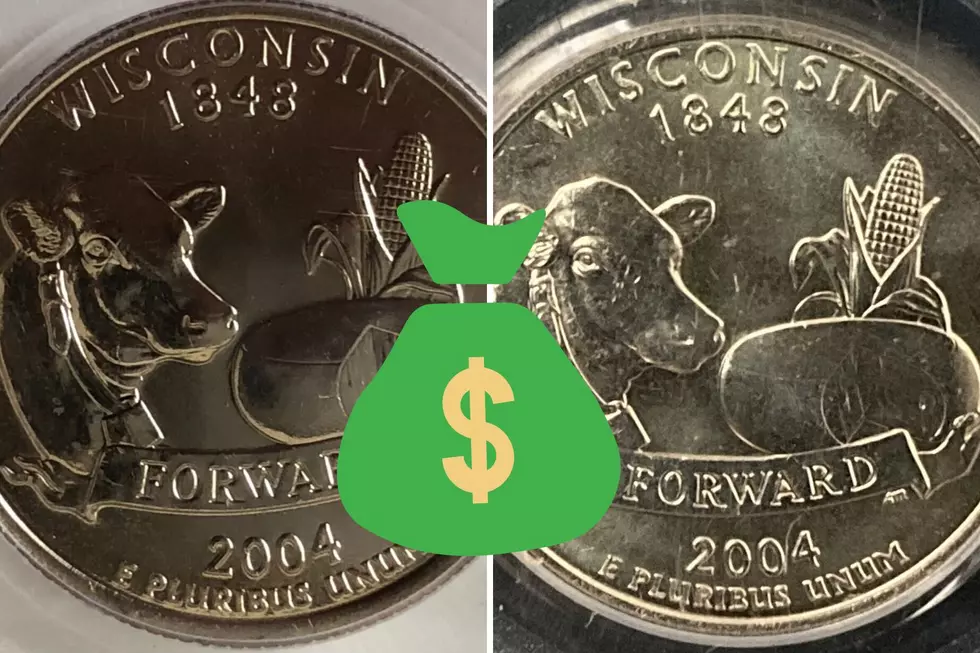 This One Rare Wisconsin Quarter In Your Pocket Could Score You $2000!
eBay.com,Canva
I may not be much of a collector, (unless collecting dogs counts), but here are a few things I do know about collecting;
Some people collect things as an investment, while others just like surrounding themselves with things that make them smile.
It doesn't matter what inspired the collection, people will pay big money to get their hands on whatever they don't have and are always searching for.
You can score a big chunk of change by selling a piece from your collection if it is ultra rare and well maintained.
The Wisconsin Quarter That is Worth Big Bucks
Speaking of change...did you know there's a pretty good chance that right now you have a Wisconsin quarter in your pocket or change jar that could be worth over $2000?!? Check this out...
So, before you start rummaging through all the quarters in your home, purse, and car, just how rare is this 2004 "mistake"? I headed to eBay to find out.
In total, I found several listings for 2004 Wisconsin 'High Leaf' Quarters, and the most expensive one I found was $315...
I also found several listings for a 2004 Wisconsin 'Low Leaf' Quarter, so now I need to know what the difference is.
Is the 'Low Leaf' Wisconsin quarter a mistake too? The short answer? Yes.
Here's an explanation as to why these coin 'mistakes' might exist from littletoncoin.com;
Some Wisconsin quarter errors were found with an "extra cornstalk leaf" – either pointing down ("Low Leaf") or pointing up ("High Leaf").

 

because roughly equal quantities exist of the two varieties, some experts speculate that the extra leaves were deliberately created by someone at the Denver Mint.
I guess the moral of this story is; if you find a 2004 Wisconsin quarter with an extra leaf, take good care of it and call a coin collector immediately.
7 Foods You Didn't Know Were Official State Foods of Illinois & Wisconsin
Wisconsin and Illinois' official state foods you probably didn't know about.
20 of The Best and Worst WISCONSIN Mugshots
Recognize any of these Wisconsin folks?
More From Rockford's New Country Q98.5