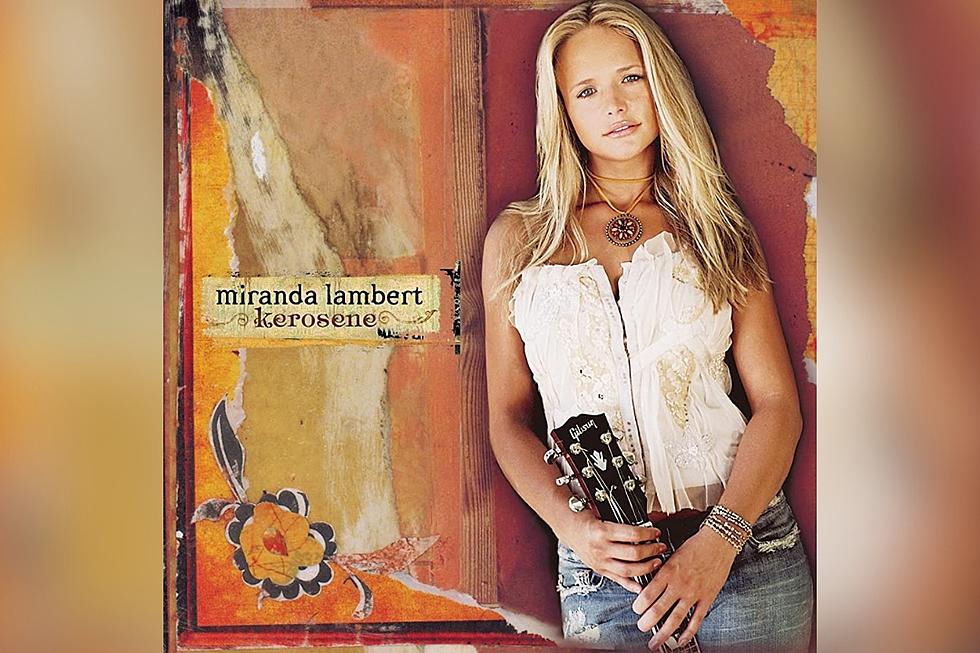 Classic Albums Revisited: How Miranda Lambert's 'Kerosene' Showcased a Legend in the Making
Epic Nashville
There's a line from Kerosene that perfectly captures who Miranda Lambert is as an artist, and it's not "ain't a rule that ain't worth breaking," although her appetite for risk and spitfire spirit have served her more than well in Nashville. It comes later in the album, during the understated, oft-forgotten "Mama, I'm Alright."
Here, she tells her worried, praying Mama, "My step is sure and I know my name / I'm strong just like you prayed I'd be." Though she was barely twenty years old when she first sang those words, they have remained true across all the years that have come since.
Today, the ACM Entertainer of the Year Award winner has become something of an institution in country music. The superstar is a 27-time Grammy Award nominee and has sent ten singles to No. 1. She's released nine solo studio albums, plus three superb records with her supergroup, the Pistol Annies. Over the years, she's collaborated with country veterans like George Strait and next-generation stars like Luke Combs. Her influence is, thankfully, inescapable.
Most remarkably, though, is that for all of her output, Lambert has never done the same thing twice. From her firebrand honky-tonking album, Crazy Ex-Girlfriend, to her pensive, wayfaring double album, The Weight of These Wings, Lambert has continuously used her records to explore new dimensions of her artistry. For Lambert, the end result of her labors has always been country music greatness, but the journey to it has gloriously taken different forms each time.
This is why revisiting Kerosene is an exercise in joy for Lambert fans. For twelve songs and 43 minutes, we experience one of the greatest artists of our time as she exists in the precarious space between a dream and a legend. Songs like "What About Georgia," "New Strings," and "Me and Charlie Talking" are not in any way Lambert's career-defining tracks, but they are the songs that built her as a musician.
Lambert wrote or co-wrote eleven of the record's twelve tracks, which Frank Liddell and Mike Wrucke produced. On Kerosene, she introduced the themes she would wrestle with for the rest of her career, from the blazing desire for revenge after a lover's done you wrong to the near impossibility of reconciling one's highways dreams and a desire for rootedness. Only here, we get Lambert's take without her decades of hard-won wisdom — that, of course, would come later.
The songs that make up Kerosene preserve a youthful, green version of Lambert. Thankfully, production didn't scrub clean the sound of a newcomer finding and wielding her voice for the first time. It's all still there, perfectly imperfect.
It's been a long road since 2005. Every step, though, has been a sure one.
Miranda Lambert, Kerosene Track List:
1. "Kerosene" (written by Miranda Lambert and Steve Earle)
2. "What About Georgia" (M. Lambert)
3. "Greyhound Bound for Nowhere" (M. Lambert, Rick Lambert)
4. "New Strings" (M. Lambert)
5. "I Can't Be Bothered" (Travis Howard)
6. "Bring Me Down" (M. Lambert, Howard)
7. "Me and Charlie Talking" (M. Lambert, R. Lambert, Heather Little)
8. "I Wanna Die" (M. Lambert, Scotty Wray)
9. "Love Is Looking for You" (M. Lambert)
10. "Mama, I'm Alright" (M. Lambert, Howard)
11. "There's a Wall" (M. Lambert)
12. "Love Your Memory" (M. Lambert)
All of Miranda Lambert's Albums, Ranked
From her 2005 debut to today, we look back on all of Miranda Lambert's solo records to date.
More From Rockford's New Country Q98.5