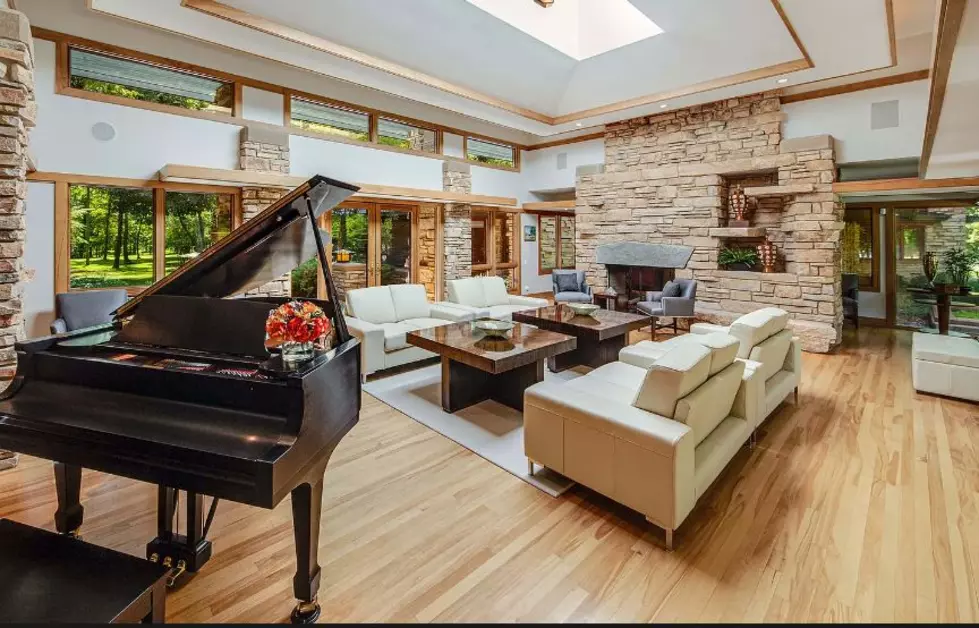 Spectacular Illinois Mansion Has Private Landing Pad for Helicopter
Credit; Paula Johnson, Compass via Zillow
How nice would life be if you could live far enough away from the Chicago hustle and bustle, but conveniently whip in and out of the Windy City anytime you want on your private helicopter?
For just under $8 million dollars, there's a mansion on the market in Illinois that is absolutely out-of-this-world and includes a spot to park your chopper.
Located in Kane County in the village of Elburn, Illinois, this property has a main residence, a guest house, a movie theater, and an indoor horse riding arena. But that's only the beginning of what this stunning estate has to offer on over 150 acres.
Here are some of the highlights of this "Prairie-style" paradise that has over 6,000 square feet of living space with 6 bedrooms, and 13 baths.
You can see the quality craftsmanship that went into the main residence that's built with "fond-du-lac stone" and has hardwood floors throughout.
The hallways seem to go on forever in this home, with windows throughout that make you feel like you're one with nature.
This living room area is enormous and perfect for entertaining guests and features huge skylights and floor-to-ceiling windows.
The master bedroom has a two-story fireplace and a spa-like bathcoom.
There are 2 kitchens in the main residence. A "fully-equipped modern kitchen" and a secondary "catering kitchen."
A wine cellar with a large wine-tasting room is larger than most apartments.
Guests can enjoy movies in the 12-seat theater located inside the main home.
.The game room has entertainment for everyone with skeeball, ping-pong, pool, and a fitness center.
When you're ready to head into the city, jump into your chopper that's waiting for you on the private helicopter pad.
There's a cocktail area with views of the pool in the guest house that has two bedrooms and two baths.
The covered outdoor walkways have incredible stonework with waterways in between.
The property includes three plus landscaped horse paddocks, four pastures, maintenance buildings, and a hay barn, plus a "stellar six-stable horse barn."
CLICK HERE to see the complete $7.4 million dollar listing that also includes a 7,000 square foot indoor horse riding arena, a fully-equipped pool house, and "herringbone stone pathways that flow all around this lush landscape,
See Inside Garth Brooks and Trisha Yearwood's Malibu Beach House:
LOOK: Here are the best lake towns to live in
Many of the included towns jump out at the casual observer as popular summer-rental spots--the Ozarks' Branson, Missouri, or Arizona's Lake Havasu--it might surprise you to dive deeper into some quality-of-life offerings beyond the beach and vacation homes. You'll likely pick up some knowledge from a wide range of Americana: one of the last remaining 1950s-style drive-ins in the Midwest; a Florida town that started as a Civil War veteran retirement area; an island boasting some of the country's top public schools and wealth-earners right in the middle of a lake between Seattle and Bellevue; and even a California town containing much more than Johnny Cash's prison blues.
More From Rockford's New Country Q98.5